Account Summaries of the Marxists Internet Archive

2008
MONTHLY ACCOUNT SUMMARY | BANKING SUMMARY | MONTHLY BANKING SUMMARY | SPENDING FROM BANK ACCOUNT, BY CATEGORY
---
We began 2008 with (US)$1676.18 in the bank, by year's end our account balance stood at US$1998.81, indicating a gain in value of US$322.63. By and large the maintenance in value of our account was due to DVD sales, in part, but perhaps due more to donations and monthly sustainer donations, and to a payment to us from the Copyright Clearance Center (this time for US$254.67, which comprises the bulk of the "uncategorized" income entered in the month of October).
We started the year with US$1727.95 in our Paypal account and ended with US$775.79. In the course of the year we were able to transfer US$3988.17 to our bank account to cover the expenses of running the MIA. The bulk of those expenses, naturally, consisted of payments to our internet service provider (ISP).
The data in the tables and charts below is drawn, in the case of our bank account, from printed bank statements, save for the month of February, for which neither a paper nor online statement was available. In that instance, the month's activity was extrapolated from the ending balance of the previous month and the following month's beginning balance, and by plugging in recurring invariant expenses. That dearth of information for the month of February accounts for the "uncategorized" expenses noted in the summaries below.
In the case of the Paypal account, the balances are drawn from digital monthly summary account histories accessed online.
1. MONTHLY ACCOUNTS SUMMARY 2008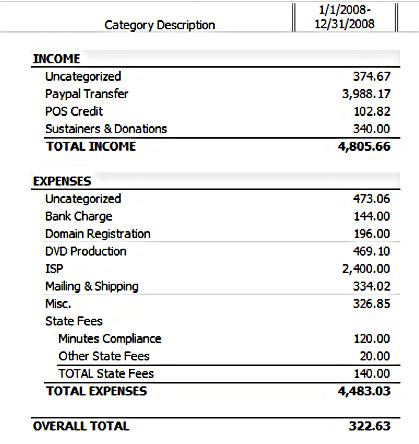 3. MONTHLY BANKING SUMMARY, 2008

4. 2008 SPENDING FROM BANK ACCOUNT, BY CATEGORY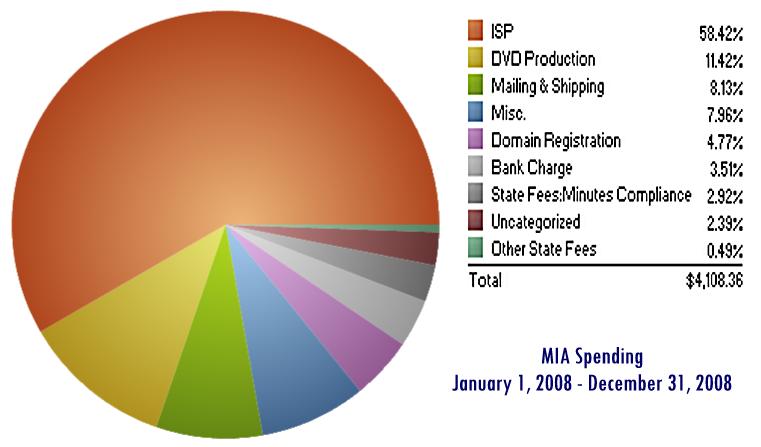 ---