Account Summaries of the Marxists Internet Archive

2022
---
End-of-Year Status
We started 2021 with US$16,163.95 in the bank, and our end-of-year balance was $18,321.37

After transfers to our bank account we ended the year with $0 in our Paypal account.
Thus, our combined assets at year-end were US$18321, rounded to the nearest dollar.
INCOME
Roughly US$2800 was was received in donations received via check, but mostly through Paypal.
In addition, we received US$842 from a book publisher, thanks to Tim and David, who designated the MIA as payee for the royalties on the volumes of Eugene Debs' writings they have edited.
SPENDING
Our gross expenses in 2022 amounted to US$1520
Internet hosting continued to be our greatest expense, directly accounting for 34% of expeditures, for the year. Indirect cost of our hosting arrangement were another 1% incurred in bank and credit card foreign transaction fees. Domain registration, security certificates , DNS backup, accounted for 31% . Thus, running the website accounted for 66% of our expenditures.
The next largest expense areas were the Post Office box rental (14% of spending) and corporate compliance paperwork (12% of spending).
SPENDING BY CATEGORY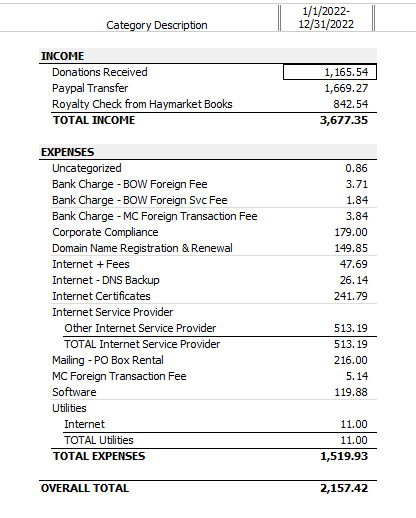 ---