Earl Browder
The People's Front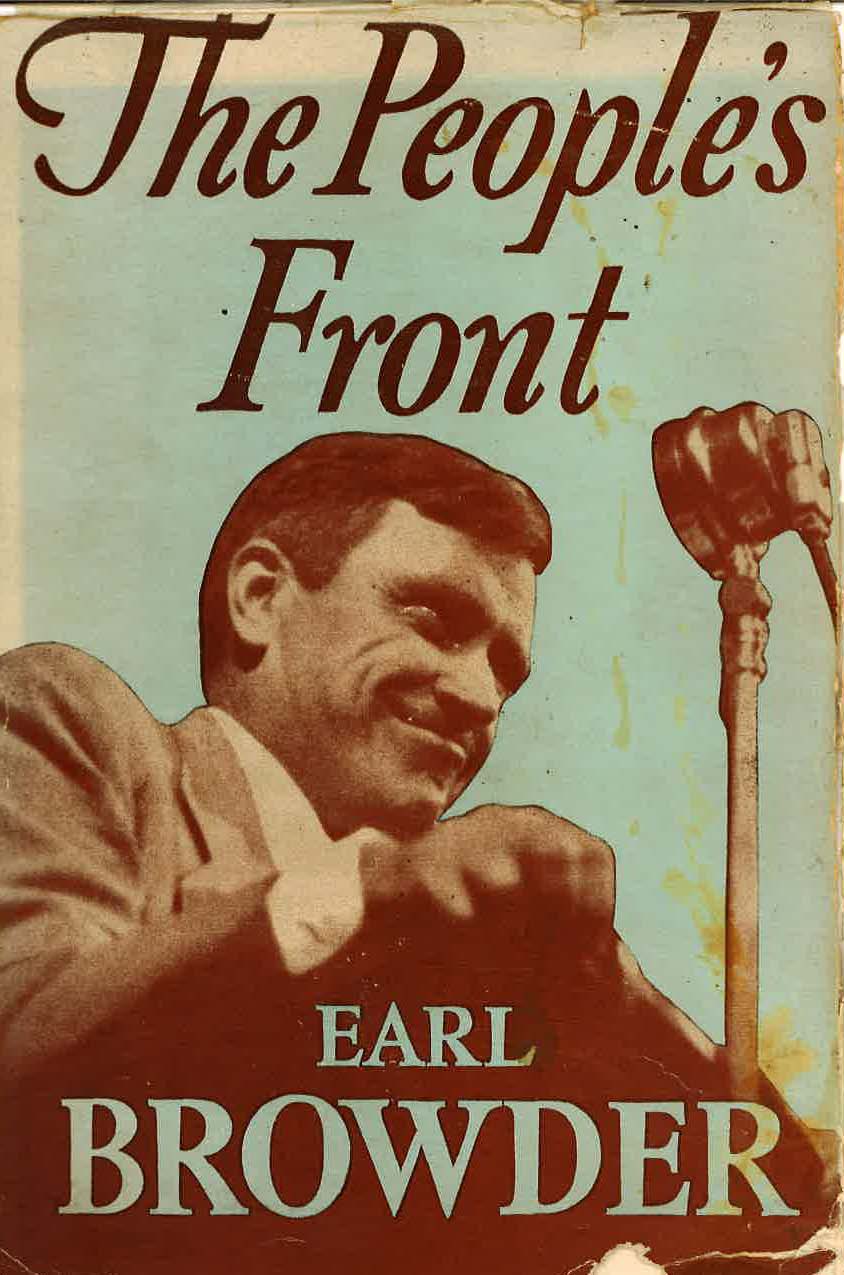 ---
First Published: 1938
Transcription, Editing and Markup: Paul Saba
Copyright: This work is in the Public Domain under the Creative Commons Common Deed. You can freely copy, distribute and display this work; as well as make derivative and commercial works. Please credit the Encyclopedia of Anti-Revisionism On-Line as your source, include the url to this work, and note any of the transcribers, editors & proofreaders above.
---
CONTENTS
PART ONE: PARTIES AND ISSUES
–––1. Struggle Against Fascism and For Peace
–––2. Issues and Parties in the Elections
–––3. The United Front and Trade Union Unity
–––4. Building the Communist Party
–––5. Speech in Reply to Discussion
III. Foreign Policy and the Maintenance of Peace
VI. Old Age Pensions and Unemployment Insurance
VII. A Message to Young America
VIII. What Spain Means to America
X. The People's Front Can Defeat Reaction
–––1. The Defeat of Reaction in the November Elections
–––2. What Follows After the Roosevelt Victory
–––3. The Accomplishments and Shortcomings of the Communist Party
–––4. The Relation of the People's Front to the Struggle for Socialism
PART TWO: THE AMERICAN TRADITION
I. The Communists in the People's Front
–––1. Factors and Problems of the Developing People's Front
–––2. The Trade Union Question and the Fight for Unity
–––3. Let Us Broaden the Organized Struggle for Peace
II. Lincoln and the Communists
III. On Church, Home and Violence
V. Who Are the Real Friends of Political Asylum?
–––1. Historical Background of the Crisis
–––2. The New Crisis and Its Possible Outcome
VII. Democracy and the Constitution
VIII. Revolutionary Background of the United States Constitution
IX. The 18th Anniversary of the Founding of the Communist Party
X. Writers and the Communist Party
PART THREE: THE UNITED STATES AND WORLD AFFAIRS
II. Trotskyism Against World Peace
V. Zionism and the Partition of Palestine
VI. For a Common Front Against the War-makers
VII. Twenty Years of Soviet Power
---