Jack London
The Mutiny of the Elsinore
---
Written: 1914
First Published: The Macmillan Company, New York, 1914
Source: Project Gutenberg. Released as eBook #2415 on July 10, 2007
Transcription\HTML Markup: Transcription by Project Gutenberg volunteer David Price. Proofed by Rab Hughes. MIA Fomatting/Markup by David Walters. Note by Transcriber: This work of 50 chapters is broken up by us into 5 parts to make the reading more accessible to the user.
Copyright info: All of Jack London's writings are in the Public Domain. Please read the Gutenberg Project License for further information. Image on this page of the original edition of The Mutiny of the Elsinore from the The World of Jack London web site.
---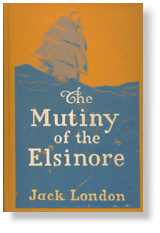 ---