Marx and Engels
News Media Interviews
---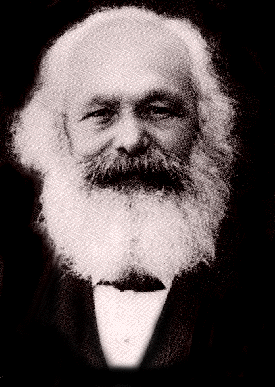 After the Paris Commune shocked the world – including the state-led massacres of the Communards that followed right after – Karl Marx became a very famous person. The myth ran that he was the mastermind behind the uprising and the International Working Men's Association was a vast conspiratorial organization of destruction and nefarious violence.
Because of all this rumor-mongering going on – indeed, if you read Usenet, still going on – the reporters in the following pieces usually felt compelled to draw great attention to Marx's actual living conditions or his general demeanor – which hardly befit the "diabolical genius" they expected. As a British politician tells Queen Victoria's eldest daughter in a private letter (below), after doing a wee bit of spying for her and met with Marx:
"The face is somewhat round, the forehead well shaped and filled up – the eye rather hard but the whole expression rather pleasant than not, by no means that of a gentleman who is in the habit of eating babies in their cradles – which is I daresay the view the Police takes of him."
This is not yet a complete list. Articles will be added as volunteers submit them.
---
Karl Marx:
New York World, July 18, 1871
New York World, October 15, 1871
Chicago Tribune, January 5, 1879
A letter to Princess Victoria concerning Dr. Marx, February 1, 1879
New York Sun, September 6, 1880
Frederick Engels:
New Yorker Volkszeitung, On England and Ireland: 20 September, 1888
Reply to the Honourable Giovanni Bovio, Critica Sociale, February 1892
L'Eclair, On Russia: April 1, 1892
Le Figaro, May 11, 1893
Daily Chronicle, July 1, 1893
---