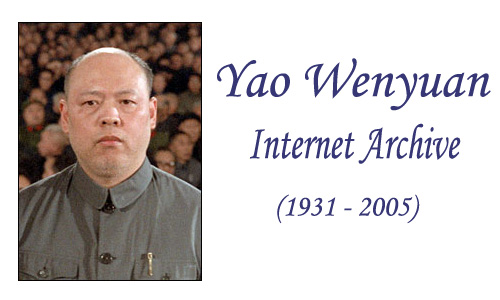 ---
Yao Wenyuan (1931, Zhuji, Shaoxing, Zhejiang – December 23, 2005, Shanghai) was a Chinese literary critic, a politician, and a member of the "Gang of Four" during China's Cultural Revolution.
Yao began his career in Shanghai as a literary critic, where he became known for his sharp attacks against colleagues. At that time, he began to closely collaborate with Shanghai politicians, including the head of the city's Propaganda Department, Zhang Chunqiao. His article "On the New Historical Play 'Dismissal of Hai Jui'," (海瑞罢官), published in the Shanghai daily Wenhuibao (文汇报) on November 10, 1965, helped launch the Cultural Revolution.
The article was about a popular opera by Wu Han, who was then deputy mayor of Beijing. Zhang Chunqiao and Jiang Qing feared the play could be counter-revolutionary because parallels could be drawn between the characters in the play and officials in the communist government. Yao claimed it was a coded attack on Mao for dismissing in 1959 then-minister of defense Peng Dehuai, a critic of the Great Leap Forward.
Confused by this unexpected attack, Beijing's party leadership tried to protect Wu Han, providing Mao the pretext for a full-scale "struggle" against them in the following year. Yao was soon promoted to the Cultural Revolution Group.
In April 1969 he joined the Politburo of the Central Committee of the Communist Party of China, working on official propaganda. A member of "Proletarian Writers for Purity" he was the editor of Jiefang Ribao (Liberation Daily, 解放日报) the official organ of the Shanghai Committee of Communist Party and Shanghai's main newspaper.
In October 1976, following the death of Mao, he was arrested for his participation in the Cultural Revolution and sentenced to 20 years imprisonment.
He was released on October 23, 1996, and spent the remainder of his life writing a book and studying Chinese history. He lived in his hometown of Shanghai and became the last surviving member of the Gang of Four.. According to China's official Xinhua news agency, he died of diabetes on December 23, 2005, aged 74.

Documents
1965: On the New Historical Play 'Dismissal of Hai Jui'
1966: On 'Three-Family Village'—The Reactionary Nature of Evening Chats at Yenshan and Notes from Three-Family Village
1967: Letter to Mao Zedong
1967: Chinese Red Guards Will Unite and Fight Side by Side with Albanian Youth For Ever
1967: Commemorate Lu Hsun and Carry the Revolution Through to the End (pdf)
1968: The Working Class Must Exercise Leadership in Everything
1968: Comments on Tau Chu's Two Books (pdf)
1975: On the Social Basis of the Lin Piao Anti-Party Clique
---