Encyclopedia of Anti-Revisionism On-Line
---
Walter Linder
M-2-M: 'Won't Stop Now'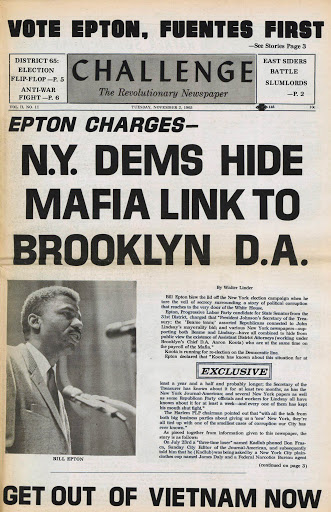 ---
First Published: Challenge, Vol. II, No. 11, November 2, 1965
Transcription, Editing and Markup: Paul Saba
Copyright: This work is in the Public Domain under the Creative Commons Common Deed. You can freely copy, distribute and display this work; as well as make derivative and commercial works. Please credit the Encyclopedia of Anti-Revisionism On-Line as your source, include the url to this work, and note any of the transcribers, editors & proofreaders above.
---
"We can do nothing but grow from these attacks," declared May 2nd Movement (M-2-M) National Coordinator Jeff Gordon in answering the offensive launched by the Johnson Administration against the student group's massive opposition to the war in Vietnam.
"We are going forward with our anti-draft program," said Gordon. "The people are against this war and nothing the government will do can stop them from opposing the draft."
As CHALLENGE went to press M-2-M was being subjected to a barrage of threats from Sen. Robert Kennedy, the House Un-American Activities Committee, the Senate Internal Security Committee, and Attorney-General Katzenbach. They were accusing M-2-M of near treason because of its campaign to get U.S. troops out of Vietnam.
"Our answer to them," said Gordon, "is taking place on the City College campus Thursday afternoon (Oct 28th) where an anti-draft union is being organized at that school." Students, 600 of whom demonstrated against the war on Oct 14, were scheduled to hear Russ Stetler of M-2-M's national office and Jerry Waldman, CCNY chapter chairman.
"The purpose of these Unions," said an M-2-M statement, "is to actively oppose the draft for the Vietnam war now...These Unions will be independent and will decide on their own programs. Ideas for such programs include: demonstrations when a member of the Union is being forced to go into the army; similar demonstrations in support of members who refuse to go into the army; demands that the University cease all cooperation with the draft board. . .and that the ROTC get off the campus."
If the demands were not met "the Unions might consider the organization of student strikes" to support them. M-2-M was also planning to approach high school students and to publish a pamphlet "which will outline...the responsibility of the American people as we relate to the U.S. government which is committing atrocities on the people of a small nation thousands of miles from our shores."
---