Fergus McKean
Communism versus Opportunism
An Examination of the Revision of Marxism in the Communist Movement of Canada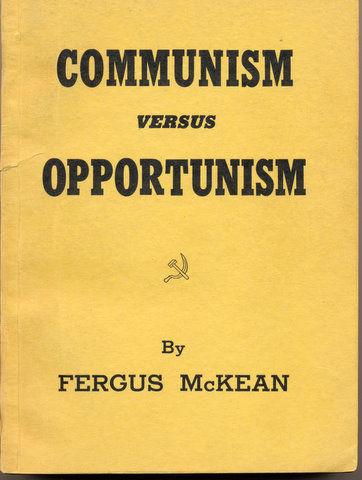 ---
First Published: 1946 by the Organizing Committee, Communist Party of Canada
Transcription, Editing and Markup: Paul Saba
Copyright: This work is in the Public Domain under the Creative Commons Common Deed. You can freely copy, distribute and display this work; as well as make derivative and commercial works. Please credit the Encyclopedia of Anti-Revisionism On-Line as your source, include the url to this work, and note any of the transcribers, editors & proofreaders above.
---
CONTENTS
I. THE REVISION OF MARXISM IN THE U.S.A.
II. THE TACTIC OF BLOCS WITH THE LIBERAL BOURGEOISIE
III. THE INTRODUCTION AND DEVELOPMENT OF REVISIONISM IN THE COMMUNIST PARTY OF CANADA
IV. HOW THE COMMUNIST MOVEMENT IN CANADA REVISED IN THEORY OR PERVERTED IN PRACTICE EVERY FUNDAMENTAL PRINCIPLE AND DOCTRINE OF MARXISM
V. THE ORGANIZATIONAL POLICIES WHICH FOSTERED REVISIONISM AND ITS EFFECT
VI. WHAT IS TO BE DONE AND WHY
---