Encyclopedia of Anti-Revisionism On-Line
---
300 Attend National Conference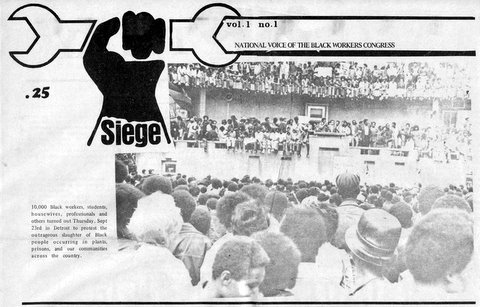 ---
Published: Seige, Vol. 1, no. 1, n.d. [1971].
Transcription, Editing and Markup: Paul Saba
Copyright: This work is in the Public Domain under the Creative Commons Common Deed. You can freely copy, distribute and display this work; as well as make derivative and commercial works. Please credit the Encyclopedia of Anti-Revisionism On-Line as your source, include the url to this work, and note any of the transcribers, editors & proofreaders above.
---
The first national conference of the Black Workers Congress was convened in Gary, Indiana over the Labor Day weekend. Approximately three hundred Black and other Third World workers and students participated in this conference, an historic first. The thrust of this conference was to pull together the efforts of Black and other Third World Workers in a unified struggle against U.S. imperialism and its lackeys.
The conference began on Saturday morning with opening remarks by Michael Hamlin, Chairman of the Black Workers Congress. Following these remarks came a speech by John Watson on the Objective Conditions of Black and other Third World Workers Today. The speech gives an analysis of the crisis that capitalism is in today, of how Nixon's wage-price freeze is used as a tool of economic sanction to capitalist business and how this new economic policy further exploits working people, Black and other Third World workers in particular. Watson's speech ended with a call for workers to organize and struggle against economic repression.
Other delegates to the conference gave brief speeches of solidarity to the concept of Black Workers and other Third World people moving against Imperialism and industrial repression. Representatives from the Chicano, Puerto Rican, and Asiatic oppressed communities spoke to the need to escalate struggles against imperialism.
Workshops were convened on organizing workers youth, and women. A cross section of workers shared their experiences in struggling against imperialism. The workshops focused on how to build struggle around the concrete issues which workers face, and how to mobilize and involve workers in day to day issues of struggle. Another important topic was building working class unity, through actions against plant atrocities especially when workers are murdered due to unsafe conditions in plants.
The Black Workers Congress Women Commission is organizing to fight imperialism as it exploits Black and other Third World women on the job or excluded from the job; to fight imperialism as it controls Black and other Third World women on welfare rolls; to fight imperialism as it keeps the wives of Black and other Third World workers locked economically and socially into their households o that they don't recognize and move against the common enemy; to fight imperialism as it uses capitalism, racism and anti-woman propaganda and practices to oppress Black and other Third World people, the rest of the working class, and oppressed people around the world.
A highlight of the conference was a film "The Red Detachment of Women" made in China released in 1970 over three years after their Cultural Revolution. This precedent-setting film depicts the role of women in revolutionary struggle. This detachment of women was given the task of struggling politically and militarily with the Chinese landlord class.
The Women's workshops were greatly inspired by this movie as well as the organizational experiences shared with them by other Black and Third World women and men.
A proposed constitution for the Black Workers Congress was presented and accepted in principle.
---