Encyclopedia of Anti-Revisionism On-Line
---
Cheo Hekima
New Groups Join CAP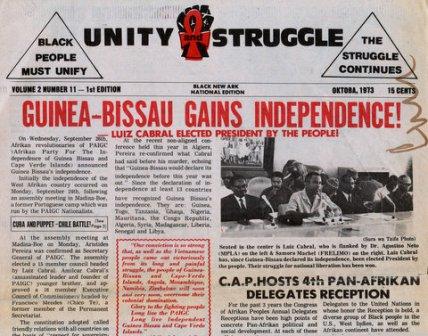 ---
First Published: Unity and Struggle, Vol. II, No. 11, Oktoba 1973.
Transcription, Editing and Markup: Paul Saba
Copyright: This work is in the Public Domain under the Creative Commons Common Deed. You can freely copy, distribute and display this work; as well as make derivative and commercial works. Please credit the Encyclopedia of Anti-Revisionism On-Line as your source, include the url to this work, and note any of the transcribers, editors & proofreaders above.
---
Seven Nationalist Organizations spaced throughout the U.S. are in various stages of becoming cadre organizations in the Congress of Afrikan People (CAP).
Two of them, Afrikan Youth Party of Houston, Texas and Malcolm X Freedom House of Wilmington, Delaware, have already been accepted by the Executive Committee of CAP as member organizations. The other five, Workings Always Thru Unity (WATU) of St. Louis, Pan-Afrikan Nationalist Union (PANU) of Baltimore, AFRIKAN COUNCIL of Albany, N.Y., UJIMA of Detroit, and Black Unity Freedom Forum (BUFF) of Elkhart, Indiana are all awaiting visits from a representative of the Chairman's Office. This on-site inspection is the final step to CAP organizational membership.
Chairman Imamu Amiri Baraka noted the "inspiring consistency" with which new cadres around the country have joined the Congress of Afrikan People.
Information on CAP membership requirements can be obtained by writing:
Congress of Afrikan People
502 High St.
New Ark, N.J. 07102,
---