Encyclopedia of Anti-Revisionism On-Line
---
Leo Baraka – 1973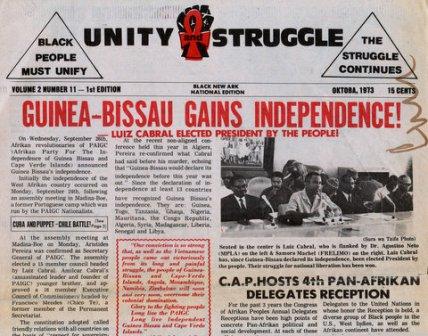 ---
First Published: Unity and Struggle, Vol. II, No. 11, Oktoba 1973.
Transcription, Editing and Markup: Paul Saba
Copyright: This work is in the Public Domain under the Creative Commons Common Deed. You can freely copy, distribute and display this work; as well as make derivative and commercial works. Please credit the Encyclopedia of Anti-Revisionism On-Line as your source, include the url to this work, and note any of the transcribers, editors & proofreaders above.
---
Leo Baraka, October 7th, is the Birth Date of our leader and teacher of Revolutionary Afrikan Nationalism, IMAMU AMIRI BARAKA. We advocate this day as our HIGH HOLY DAY. Imamu Baraka's works are his best teacher.
We, the advocates of IMAMU AMIRI BARAKA'S works and studies use this day as a day of absolute work and study. We work and study to strengthen our commitment to the building and developing of our community and restoration of our people to their traditional greatness.
On Leo Baraka, we wear Black because Black is for our faces and the work we must do. Our food intake consists of fruit and juice from fresh fruits.
The ritual for this HIGH HOLY DAY begins at 7:00 am the morning of October 7th, when we light a Black candle which is to burn in the Hekalu until 7:00 am the next morning. We are grateful to IMAMU AMIRI BARAKA for his committment and his great works toward the liberation of all Afrikan people.
As Imamu Baraka teaches us, "the work of National Liberation is hard and it's resolution is to be sought but not fantasized as the result of unprepared spontaneous outbursts of emotionalism. It is work. It will only be achieved by disciplined, dedicated people, with a value system that allows them to persevere and remain healthy and rational and committed for as long as it takes no matter what happens to anybody or anybody or everybody else."
---