Encyclopedia of Anti-Revisionism On-Line
---
Marxist-Leninist Collective
Proletarian Revolution and the Split in the Working Class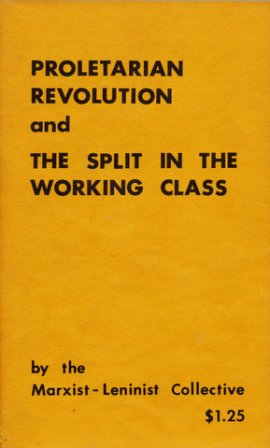 ---
Published: November 1976.
Transcription, Editing and Markup: Paul Saba
Copyright: This work is in the Public Domain under the Creative Commons Common Deed. You can freely copy, distribute and display this work; as well as make derivative and commercial works. Please credit the Encyclopedia of Anti-Revisionism On-Line as your source, include the url to this work, and note any of the transcribers, editors & proofreaders above.
---
Contents
INTRODUCTION: THE FUNDAMENTAL QUESTION OF MODERN SOCIALISM
I. THE DEVELOPMENT OF THE LABOR ARISTOCRACY IN THE US
A. Skilled Workers in the Steel Industry
B. Influence of 'New Immigrants', Women, on Work Force
II. THE MATERIAL BASIS FOR THE SPLIT IN THE WORKING CLASS TODAY
A. The Bribery of the Upper Stratum
B. Privileges to the Entire Working Class
C. Composition of the Labor Aristocracy
D. Who Constitutes the Lower Stratum of Workers?
E. What Are the Forms of the Bribery of the Upper Stratum and Temporary Privileges to the Lower Stratum?
III. COMPARISON OF ENGLAND AND THE US AS GREAT IMPERIALIST POWERS
A. Great Britain: The Effects of the Crisis on a Declining Imperialist Power
IV. BREAK WITH RIGHT OPPORTUNISM AND REVISIONISM!
A. Main Contradiction Within the Proletariat
B. CPUSA: Bourgeois Agents in the Working Class
CONCLUSION: THE TASKS OF COMMUNISTS IN THE US
APPENDIX A: San Francisco City Crafts Workers' Strike
APPENDIX B: Leaflet: "Mazzola's Impeachment: Cover for Real Attacks on Working Class!"
---