Encyclopedia of Anti-Revisionism On-Line
---
The New Voice
WW Three: Questions & Answers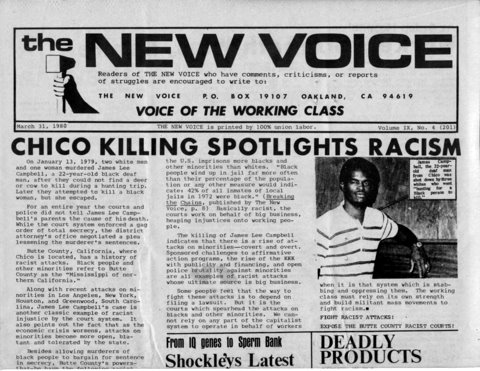 ---
Published: The New Voice, Vol. IX, No. 4, March 31, 1980.
Transcription, Editing and Markup: Paul Saba
Copyright: This work is in the Public Domain under the Creative Commons Common Deed. You can freely copy, distribute and display this work; as well as make derivative and commercial works. Please credit the Encyclopedia of Anti-Revisionism On-Line as your source, include the url to this work, and note any of the transcribers, editors & proofreaders above.
---
The Soviet invasion of Afghanistan shocked the world and forced the issue of World War Three onto people's minds. Rapidly moving events give rise to many questions, such as:
Q. WHY DO NATIONS GO TO WAR?
A. World wars are a product of monopoly capitalism. Powerful competing economic groups lock horns in world-wide contention for control of raw materials, markets and strategic advantage. Nations went to war with each other before the development of monopoly capitalism (imperialism), but earlier wars were not global in scale; precapitalist countries did not have the technology or economic resources to wage "world war."
The struggle between monopoly capitalist ruling groups takes many forms. Diplomacy, foreign aid, loans, espionage and saber-rattling are all examples. War is the final means of solving political issues among imperialists.
Competing groups seek to control sources of raw materials outside their own boundaries to keep them away from competitors. The U.S. did not need Vietnam's rubber or oil but fought a lengthy war to keep the Vietnamese or the Soviets from having them. The Soviet Union is one of the world's largest producers of petroleum; but the new tsars would still like to hold the rest of the capitalist world ransom by controlling Middle East oil fields.
Q. ISN'T THE SOVIET UNION A SOCIALIST COUNTRY? WHY DOES IT BEHAVE LIKE AN IMPERIALIST POWER?
A. The Soviet Union was the world's first socialist country, but it is no longer so. After Stalin's death, opportunists in the Communist Party of the Soviet Union established themselves as a new capitalist class. Genuine socialist countries operate in the interests of the working people, and workers do not want the tragedy, bloodshed and economic chaos of war.
Since capitalism was restored in the Soviet Union, that country has behaved more and more like an imperialist power seeking world domination. Now the Soviet social-imperialists are the principal threat to world peace. Prior to the blatant invasion of Afghanistan, the Soviets sponsored Cuban intervention in Angola and Ethiopia and supported Vietnamese aggression against Kampuchea and Laos.
The Soviet Union and the United States are the two superpowers in the world today. The Soviets show up in nearly every global trouble spot, while U.S. imperialism is in decline and retreat abroad, and in some areas is nearly powerless to act.
Q. WHAT ROLE WILL CHINA PLAY IN WORLD WAR THREE?
A. China is a socialist country. It has no military bases, troops or fleets outside Chinese territory, because it is not bent on world conquest like the Soviet Union. Nor is China seeking to protect an existing world empire like the United States.
Nonetheless, China has been preparing for a war of national defense for some time while warning the world of the main danger of Soviet social-imperialism. As a socialist country, guided by proletarian internationalism, China can be relied upon to defend the interests of the world's people as well as her own national integrity.
Q. WILL WORLD WAR THREE BE A NUCLEAR WAR?
A. It is true that nuclear war is a possibility in spite of the unanimous opposition of the world's people. If one superpower thinks it can score quick victory against the other with nuclear weapons, it may use them.
But many reasons point toward a more conventional war fought by the working people of all countries with modern rifle, tank and ship. There is no advantage to world conquest if the spoils are too radioactive to be of any use or if the producers are dead. Furthermore, the U.S. and Soviet ruling classes both know very well that the use of nuclear weapons may hasten the day of revolution as people reorganize their lives – including political power – in the wake of such destruction.
Q. WHAT ATTITUDE SHOULD U.S. WORKERS TAKE TOWARD WORLD WAR THREE?
A. The Soviets are the main danger to peace and independence around the world. Like Nazi Germany before them, the social-imperialists will not be appeased by gobbling up weaker neighbors; each new conquest merely whets their appetite. The masters of the Kremlin are prepared to make war, and only war can stop them.
U.S. workers should demand that the government aid those who are actively fighting Soviet aggression like the Afghan rebels. At the same time we should recognize our own ruling class as an unreliable ally in the fight against social-imperialism. U.S. capitalists oppose the Soviet Union for selfish reasons, with an eye to using workers as cannon fodder for protecting colonies and acquiring strategic advantage.
U.S. workers should work to postpone' war until it breaks out and then wage war to end war. We will be fighting for political and economic democracy at home and abroad.
Q. WOULD WE SUPPORT OR OPPOSE THE DRAFT?
A. Soviet aggression in Afghanistan calls for a strong response, but draft registration is not really directed to help build an anti-Soviet front. Instead of pursuing its own imperialist aims and nothing else, the U.S. government should join a world-wide front against Soviet aggression; it can start by settling the Iranian crisis on Iran's just terms. Eventually war will be upon us and a draft will be necessary. At all times we must seek to minimize the sacrifice required of people as we struggle against monopoly and world domination.
Q. WHAT CAN PREVENT WORLD WARS?
A. Every previous world imperialist war has ended in socialist revolution. World War One ended with the Bolshevik Revolution in Russia and workers' rebellions in nearly all the major European countries. World War Two ended with a successful revolution in China; all of Eastern Europe started down the socialist path. World War Three will undoubtedly expose and undermine the capitalist system, accelerating its demise. Socialist revolution will be on the agenda in the United States. Only a world free of capitalism is safe from world war.
---