Encyclopedia of Anti-Revisionism On-Line
---
PRRWO: Anarcho-Socialism U.S.A. Expose PRRWO's Hustlerism!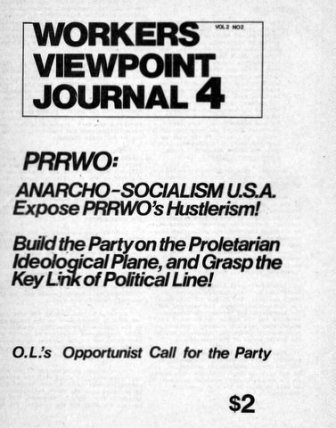 ---
Published: Workers Viewpoint Journal, #4 [Vol. 2, No. 2], n.d..
Transcription, Editing and Markup: Paul Saba
Copyright: This work is in the Public Domain under the Creative Commons Common Deed. You can freely copy, distribute and display this work; as well as make derivative and commercial works. Please credit the Encyclopedia of Anti-Revisionism On-Line as your source, include the url to this work, and note any of the transcribers, editors & proofreaders above.
---
Contents
1. COMMUNIST POLITICS VS. ANARCHO-SOCIALIST POLITICS
A. Advanced Workers and Fusion
B. Propaganda is Our Chief Form of Activity
C. Trade Unions and Factory Nuclei
D. Unite to Expose, Tactics of United Front from Below and Above
E. PRRWO on Busing, Fascism and the International Situation
2. THE CHARACTER OF OUR PARTY: BUILD THE PARTY ON THE PROLETARIAN IDEOLOGICAL PLANE, GRASP THE KEY LINK OF POLITICAL LINE!
B. To Learn Marxism, We Must Criticize Revisionism
D. Who's Combining Two Into One? The Old Cry of "Overrating the Importance of Ideology"
E. PRRWO Evades the Task of Combating and Preventing Revisionism by Just Pointing Their Finger at the Already Consolidated Revisionism of the "C"PUSA and "C"PSU
F. What Is Ideology: The General Relation between Being and Consciousness
G. Class Character of Ideology
H. Nationally Specific Ideological Superstructure and Deviations in the Communist Movement
I. How PRRWO and RWL View "Bowing" to the Spontaneous Movement as the Root of All Evil. Their Choice of the "Lesser of Two Evils" – Bow Out of Our Responsibility to Provide Communist Leadership to the Mass Struggle
K. Our Correct Trend is Developing and Is Irreversible!
L. Our Differences with PRRWO On Periods in Party Building
3. PRRWO'S & RWL'S OPPORTUNIST MENSHEVIK LINE ON ORGANIZATION
A. Menshevik Line on Organization
C. Dialectics, or Eclecticism and Sophistry
D. Philistine Explanation of the Split
E. PRRWO'S Party Building History
4. PRRWO'S "HUSTLERISM": WORLD OUTLOOK AND METHODOLOGY ARE IDENTICAL
---