Encyclopedia of Anti-Revisionism On-Line
---
Bay Area Socialist Organizing Committee
Confronting Reality/Learning from the History of Our Movement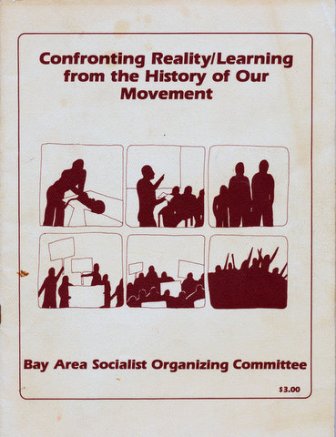 ---
First Published: April 1981.
Transcription, Editing and Markup: Paul Saba
Copyright:This work is in the Public Domain under the Creative Commons Common Deed. You can freely copy, distribute and display this work; as well as make derivative and commercial works. Please credit the Encyclopedia of Anti-Revisionism On-Line as your source, include the url to this work, and note any of the transcribers, editors & proofreaders above.
---
Publisher's Note: The Bay Area Socialist Organizing Committee (BASOC) is a local Marxist-Leninist organization based in San Francisco and Oakland, California. A part of the anti-revisionist/anti-ultraleft trend that has developed in recent years, BASOC began in 1977 as a diverse collection of study groups exploring the issues confronting the communist movement today, and especially the question of party building. The first paper in this collection, "The Development of BASOC," traces the growth of our organization's political unity. The five papers forming the bulk of this pamphlet present BASOC's views on reform, revolution, party building, and communist organization, the results of this initial process in developing our political orientation. As such, they are intended as a contribution to the debate within our movement, and not as a series of final pronouncements. We welcome readers' criticisms, comments, or questions.
CONTENTS
INTRODUCTION: THE DEVELOPMENT OF BASOC
The Study Process
Mass Work Initiatives
Work in the Communist Movement
Some Lessons
A Summary
IMPERIALISM AND THE STRUGGLES AGAINST IT IN THE UNITED STATES TODAY
Imperialism Today: The End of the American Century
Prospects for Mass Struggles
Conclusion
REFORM AND REVOLUTION
Introduction
The Role of Reforms in Revolutionary Situtations
Reforms in Situations of Political Stability
Ultra-left Purity, The Other Easy Solution
The Role of Communists in Reform Struggles
Priorities for Mass Work
Propaganda and Agitation
Unity with the Advanced
Working with Reformist Elements
Reform and Revolution
PARTY BUILDING
Party Building Is Our Central Task
The Current Scene
Some Working Definitions
Political Line
The Principal Task
Theory and Practice in the Development of Line
Testing in Practice
The Scope of the General Line
Obstacles within Our Movement
The Positions of Other Forces
Summation
A TWENTY-YEAR LEGACY OF ULTRA-LEFTISM
"Left" and Right Errors
Adventurism
Left Sectarianism
Left Economism
Foundations of Ultra-leftism
Ideological Factors
Ultra-centralism
Objective Conditions
The International Context
Deja Vu
Correcting "Left" Tendencies
DEMOCRATIC CENTRALISM
The Principles of Democratic Centralism
Problems of Democratic Centralism
Monolithic Unity
Commandism
Lack of Leadership Accountability
Ultrademocracy
The Question of Factions and Tendencies
Democratic Centralism in Today's Movement
Appendices
BASOC's ORIGINAL POINTS OF UNITY
BUILDING A NATIONAL FRACTION OF EDUCATION WORKERS
---