Encyclopedia of Anti-Revisionism On-Line
---
Comrades in the Bay Area
Critique of the Conference on Racism and National Oppression held in the S.F. Bay Area May 1981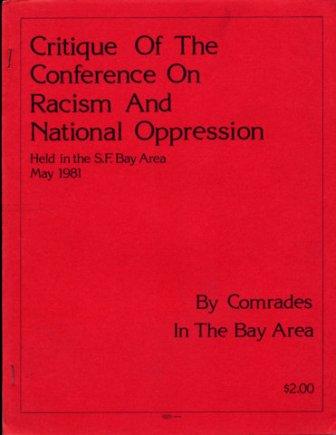 ---
First Published: 1981.
Transcription, Editing and Markup: Paul Saba
Copyright: This work is in the Public Domain under the Creative Commons Common Deed. You can freely copy, distribute and display this work; as well as make derivative and commercial works. Please credit the Encyclopedia of Anti-Revisionism On-Line as your source, include the url to this work, and note any of the transcribers, editors & proofreaders above.
---
Table of Contents
II. CRITIQUE OF ORGANIZATION AND PROCESS
A. Goals
B. Format and Preparation
C. Concerning Charges of Factionalism and Caucusing
III. CRITIQUE OF THEORETICAL AND POLITICAL CONTENT
In this section of the paper we will examine the positions expressed in the "Working Papers of the National Conference on Racism and National Oppression" published and distributed by Line of March Publications.
We propose to critique both their general methodological approach and the specific theoretical framework and political line contained in the papers. Although the methodology (the way a line is developed) and content (the actual line itself) will be treated separately for purposes of analysis, we recognize that their method and their political line on racism form an interrelated totality. In other words, their methodological approach affects the conclusions they arrive at.
This critique will focus on the part of the conference papers, "Racial Oppression and National Oppression: Their Particularities and Their Interconnection in the United States," which establishes their overall theoretical framework for approaching these questions and because it was the focus of most of the debate at the Conference itself.
A. Methodology
B. Substantive Critique
---