Encyclopedia of Anti-Revisionism On-Line
---
World Revolution
World Revolution was published by the Progressive Labor Party. Only seven issues were produced.
---
Volume One, Number One, Winter 1967
Volume One, Number Two, Spring 1968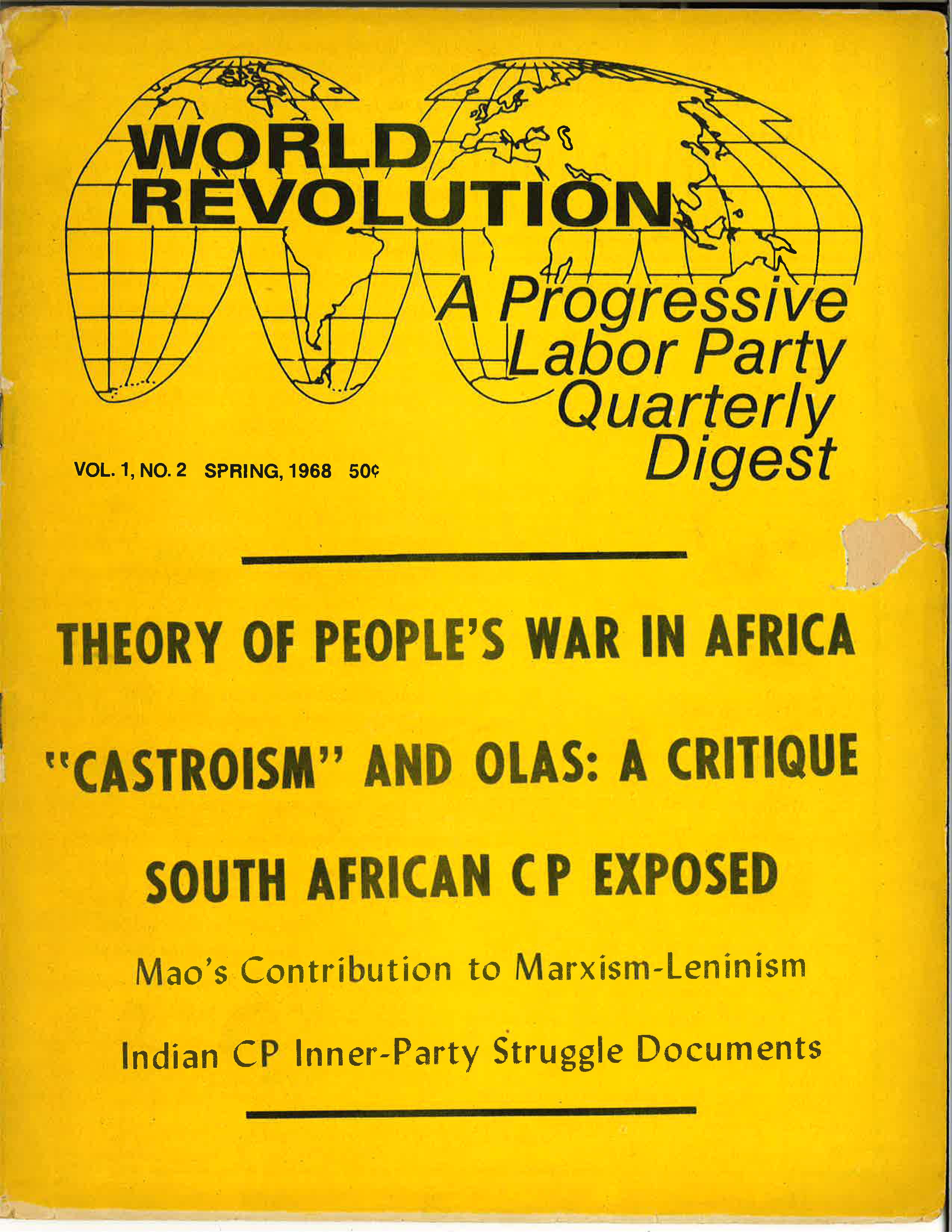 From the Editors, From the Readers
Africa:
The African Revolution and the Theory of People's War from the AFRO-ASIAN JOURNALIST, Oct./Dec. 1967
The Communist Party of South Africa-Its Counter-Revolutionary Role from the AZANIA NEWS, Nos. 21-22
The student and the Revolution from the AFRO-ASIAN JOURNALIST, Oct. 1967
India:
US Domination Replaces British Monopoly in India from HSINHUA, Dec. 17, 1967
Documents From Revolutionaries Inside the CPI(M)
Document #1 from Revolutionary Communists of India(Undated) Tasks of Indian Revolutionaries
Document #2 from DESHOBROTI, Nov. 23, 1967
Editorial from First Issue of LIBERATION, Journal of the Indian Revolutionists
Ceylon:
The Contribution of Mao Tse-tung to Marxism-Leninism from RED FLAG, Oct. 3, 1967
China: The Great Proletarian Cultural Revolution:
New Relations Between Leaders and the Masses from HSINHUA, Dec. 16, 1967
Revolution in Education from LETTER FROM CHINA, Dec. 23, 1967
Burma:
Burma Ablaze from AFRO-ASIAN JOURNALIST, Oct. 1967
North Korea:
Australian Communists Expose Revisionist Views of North Korean Leaders from VANGAURD, Dec. 1967
Vietnam:
Special Communique on Historic Tet Offensive from South Vietnam P.L.A.F. Command, HSINHUA, Feb. 8, 1968
Laos:
22 Years of Successes of Revolutionary Struggle of Lao People from THE VIETNAM COURIER, Oct. 1967
Albania:
Hoxha Rejects Revisionist "Aid"! Warns Greek Fascists from Report to the 4th Congress of the Democratic Front of Albania Sept. 1961Hoxha Rejects Revisionist "Aid"! Warns Greek Fascists from Report to the 4th Congress of the Democratic Front of Albania Sept. 1961
Poland:
1966 Message from the Polish Revolutionary Underground from Provisional Central-Committee of the C.P. of Poland, Oct. 1988
Guatemala:
Internal Reasons for the Defeat of 1954 Revolution from the TRI-CONTINENTAL, Sept.-Oct. 1967
Argentina:
A critique of OLAS and "Castroism." from DEMOCRACIA POPULAR, Sept. 1967
Volume One, Number Three
Volume One, Number Four, October 1968
Volume Two, Number One
Volume Two Number Two, May-July 1969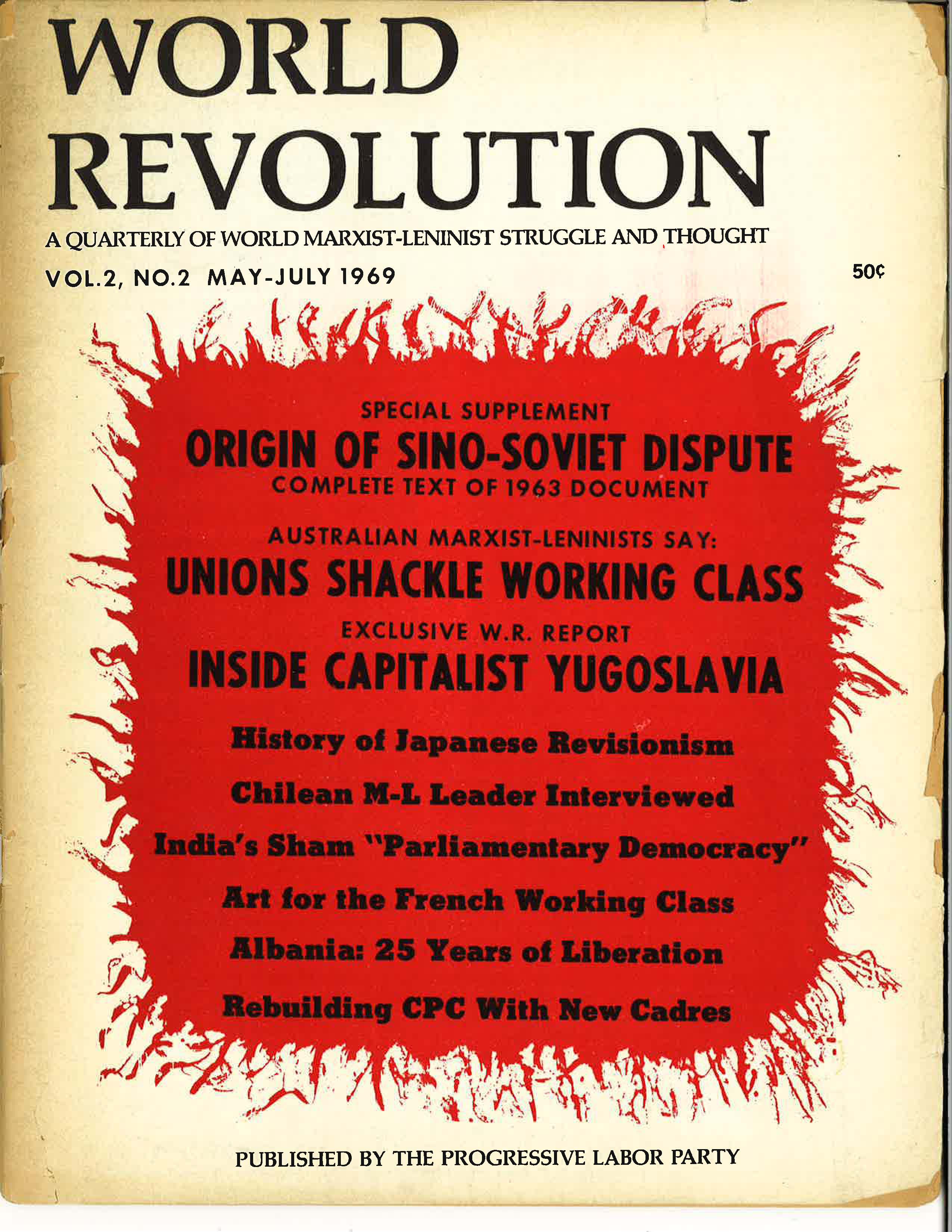 CHINA: PLP Hails CPC's 9th Congress/PLP Supports People's China
CHILE: INTERVIEW WITH CHILEAN COMMUNIST (M-L) PARTY. Chilean revolutionary leader answers questions about differences with Castro, clandestine nature of party organization, what being pro-Peking means and does not mean.
COLOMBIA: COLOMBIAN MARXIST-LENINISTS CHART SOCIALIST PATH. Colombian Communists say that social relations there are capitalist, not feudal. Socialist revolution is the answer to imperialist oppression.
YUGOSLAVIA: INSIDE CAPITALIST YUGOSLAVIA. Exclusive up-to-date report on capitalist restoration in Yugoslavia.
ALBANIA: 25YEARS OF LIBERATION. W.R. roundup of Albanian economic achievements proving that small countries can build diversified socialist economy under Marxist-Leninist leadership.
FRANCE: ART FOR THE FRENCH WORKING CLASS. Working class poster art developed during student-worker rebellion last spring. Illustrated.
INDIA: THE UGLY FACE OF "PARLIAMENTARY DEMOCRACY." The imperialist origins of India's "parliamentary democracy" is traced and the political and ideological implications analyzed.
INDONESIA: SUHARTO "AUCTIONS" INDONESIA TO FOREIGN MONOPOLY CAPITALISTS. Fascist military clique that slaughtered hundreds of thousands of Indonesians are puppets of imperialism.
AUSTRALIA: UNIONS: CAPITALIST OR WORKERS' ORGANIZATIONS? Communist Party (M-L) declares that unions have become shackles on the working class.
CEYLON: WORKERS MUST FIGHT TO END CAPITALISM. Communist Party General Secretary comments on Australia C.P.' s conclusions about trade unions.
ITALY: ITALY'S REVISIONISTS HOLD 12th CONGRESS.
PALESTINE: SOVIET REVISIONISTS BETRAY ARAB PEOPLE AT INTERNATIONAL CONFERENCE. Soviet leaders peddle their "political solution" for Mid-East 𔄢peace."
CHINA: KREMLIN'S NEW TSARS RIG UP ANTI-CHINA ENCIRCLEMENT.
CHENPAO ISLAND HAS ALWAYS BEEN CHINESE TERRITORY. These articles document Soviet aggression on China's border region and analyze political aims behind recent attacks.
ABSORB FRESH BLOOD FROM THE PROLETARIAT. An important article preceding recent 9th CPC Congress on rebuilding the party and developing new cadres.
HOW TO LOOK AT INTELLECTUALS CORRECTLY.
USSR: HEROES' BLOOD AND RENEGADES' FEARS. Soviet leaders try to obliterate history of Chinese Red Army volunteers during Civil War period.
SOVIET COLLUSION WITH CHIANG KAI-SHEK.
JAPAN: THE HISTORY OF JAPANESE REVISIONISM. Original article documenting the long history of the Japanese Communist Party leaders' opportunist policies.
SPECIAL SUPPLEMENT: Complete text of the original 1963 polemical article (The Origins and Development of the Differences Between the Leadership of the CPSU and Ourselves).
Volume Two Number Three, January 1970
NOTE TO READERS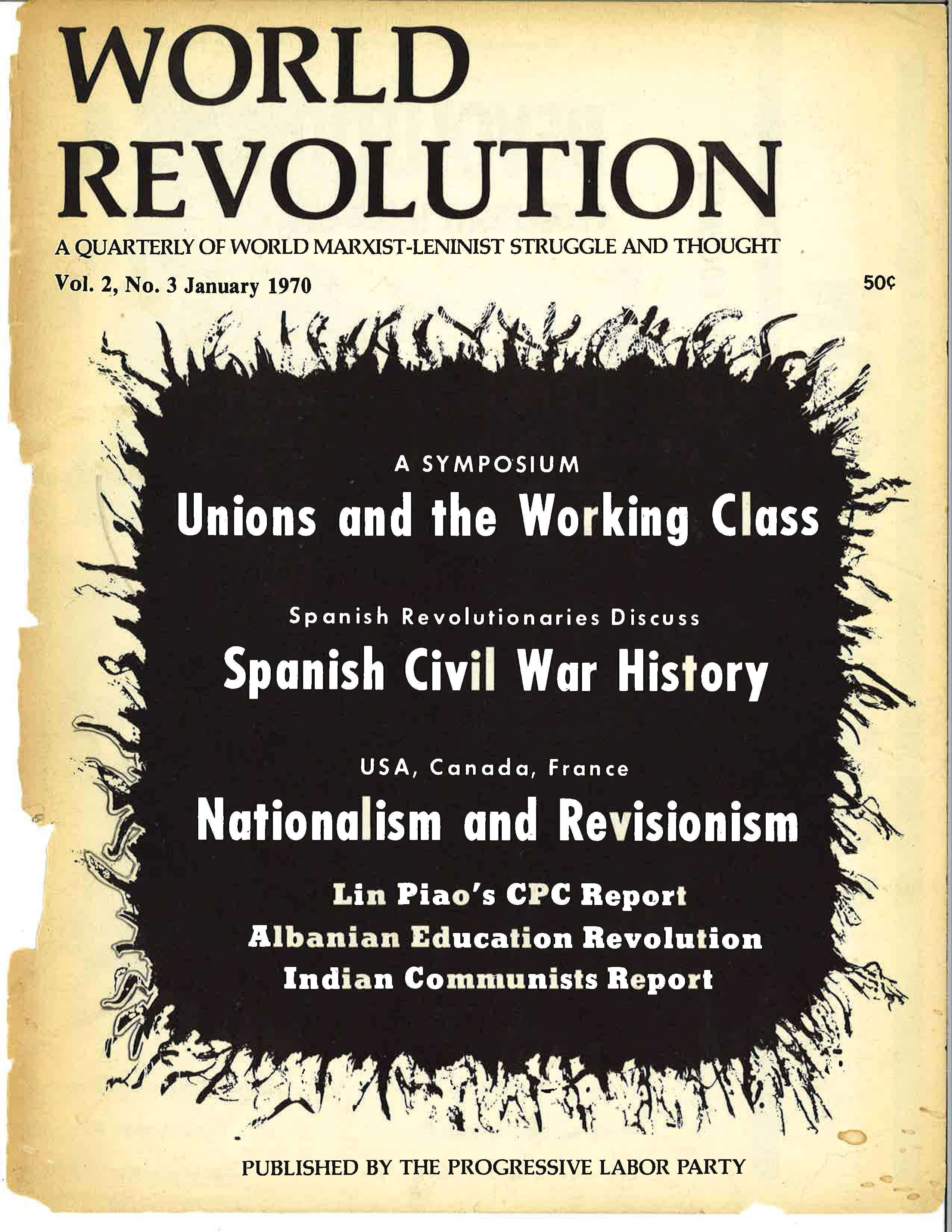 PLP TELEGRAM TO CPC: On the commemoration of the 20th anniversary of the dictatorship of the proletariat in China
PLP MESSAGE TO APL: On the liberation and establishment of the dictatorship of the proletariat in Albania.
ON THE SPANISH CIVIL WAR: Vanguardia Obrera, organ of the Spanish CP (M-L) discusses the importance of reviewing the history of the Spanish Civil War, the role of the CP of Spain and the road to socialism.
TRADE UNIONS AND THE WORKING CLASS-A SYMPOSIUM: Responses to articles in our last issue (WR, Vol. 2, No. 2) entitled Unions: Capitalist or Workers' Organizations? from the Australian CP (M-L)
Unions Are Not Static, Arne Swabeck
Unions and Class Struggle, The Worker, CP of Britain (M-L)
Smash Union Bureaucracy, David Callendar
Once More on Trade Unions, Vanguard, CP of Australia (M-L)
Don't Abandon the Workers, Walter Linder
* * *
MOSCOW'S CONFERENCE OF REVISIONIST PARTIES: Frank Roberts: A discussion and analysis of the most recent conference of revisionist sellouts.
NIXON'S ASIAN TOUR: Frank Roberts
"INDEPENDENT MARXISM" IS DEPENDENT REVISIONISM: Canadian Worker, Canadian Party of Labour: Once more on the bourgeoisie's strategy of encouraging nationalism at the workers' and peasants' expense.
QUEBEC WORKERS NEED SOCIALISM NOT NATIONALISM: Canadian Worker, Canadian Party of Labour
SOCIALIST REVOLUTION AND STRATEGY: Ligne Rouge: A further contribution on the concept of "two stage" revolution.
ALBANIA'S NEW EDUCATIONAL SYSTEM: Albanian Telegraphic Agency News Bulletin: A summary of Mehmet Shehu's report on revolutionizing education in Socialist Albania in this 25th year of the Albanian people's liberation.
POLITICAL RESOLUTION AND FOUNDING OF COMMUNIST PARTY OF INDIA (M-L): An important report detailing the break with the revisionists (Dange clique) and the neo-revisionists in India and the political resolution of the Plenary Session of Communist Revolutionaries.
AFRO-AMERICANS ARE SURE TO WIN: Peking People's Daily: An editorial comment on Chairman Mao's statement on AfroAmerican Liberation.
POLITICAL REPORT TO THE 9th NATIONAL CONGRESS, CPC: Lin Piao: The entire report made by the Vice-Chairman of the CPC to the epoch-making congress of communists in China.
CONSTITUTION OF THE COMMUNIST PARTY OF CHINA: Adopted by the 9th National Congress of the Party.
---