UNITE AGAINST RACISM!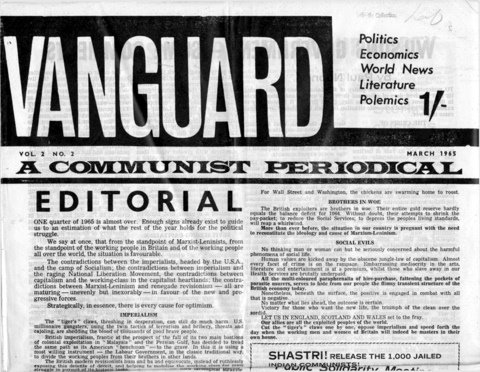 ---
First Published: Vanguard, Vol. 2, No. 2, March 1965
Transcription, Editing and Markup: Paul Saba
Copyright: This work is in the Public Domain under the Creative Commons Common Deed. You can freely copy, distribute and display this work; as well as make derivative and commercial works. Please credit the Encyclopedia of Anti-Revisionism On-Line as your source, include the url to this work, and note any of the transcribers, editors & proofreaders above.
---
OVER the last few years racialism has been on the increase in Britain. The demands of the working class in Britain for better living conditions have not been met and accusing fingers are pointing at the coloured people who have emigrated from their homelands to England as if this were an answer to these demands.
Working People of Britain. Do not be distracted from your demands.
Examine the facts for yourselves.
WHY DO PEOPLE EMIGRATE?
Many of the coloured immigrants come from lands of sunshine – their homelands, where their friends and families live. Obviously they would not leave these countries in large numbers and emigrate were it not for the fact that the conditions they are forced to live in are desperate.
The conditions in the homelands are the direct result of capitalist exploitation. For many years the class which is still exploiting us has been exploiting them in a most inhuman way.
For example: –In the Caribbean they imported slaves and indentured labour. This in order that they should extract the wealth of these countries for themselves. They have created one-crop economies; they have brought poverty, unemployment, starvation to the descendants of those they transported across the world to work for them. From this many Caribbean people seek to escape. In India, they destroyed highly developed handicraft industries in order to develop capitalism. They have divided the people of the Indian continent against one another and strife continues. They have created conditions in which the population of a vast, fertile, and one-time prosperous country face starvation – many of them dying in the streets daily. British imperialist investment and extraction of profits has increased since "independence." From this many Indians and Pakistanis seek to escape.
THE RESULTS OF IMPERIALISM
The distortion of the economies of these countries, the super profits made from the toil of the people, misery, is the result of imperialism. The capitalists drain the wealth from these countries in the form of raw materials or unprocessed agricultural products – for which they pay little – and send in return expensive manufactured goods. They never allow the development of self-sufficient industries in these countries for they would thereby forfeit their supply of cheap raw materials. The working people and peasants of these countries are therefore completely at their mercy. If e.g., the one-crop happens to be sugar, they must starve while the cane ripens and there is no work. If market prices fall, they must suffer wage cuts.
Some of the big monopolies who operate in the colonies and neo-colonies are household names – Tate and Lyle, I.C.I, Unilvever, etc. Do not believe that the imperialist exploitation of these countries has ended.
One out of every three pounds invested by British capitalists is invested abroad Nor does exploitation end with "independence." The ruling class which exploits us here and exploits the working people of other lands, has stooges in these countries to do their bidding – for a small bribe!
In the so-called "Commonwealth" the people have been brought up to think of Britain as the "mother country." Their own cultures and customs have been destroyed so that their loyalties can be controlled by these capitalists. Their "Britishness" has been impressed upon them. Being misled, they believe that if they come to Britain they will be welcomed, that they will escape the misery of exploitation.
Many never get here because the Immigration Act debars them. It is in effect a colour barrier!
HERE IN BRITAIN
They leave behind unemployment, starvation... they find here racial discrimination.
Yet many perform vitally important jobs in this country. They constitute a large section of the workers in transport and on building sites. They staff our restaurants, our laundries, work in factories. Were it not for the coloured doctors (3,600 in number) and nurses our health services would collapse.
Landlords and usurers make super-profits out of them. Houses are hard to find because of racial hatred. They face discrimination, hostility at work, in schools, in pubs, because they were born with pigmented skins. They are beaten up in the streets because of their skin colour.
DIVIDE AND RULE
A ceaseless effort is directed towards building up race hatred to which the fascist thugs give their active help. This age old tactic of the capitalist ruling class has a twofold effect. First, it serves to break the unity of the working class. The ruling class has long known that if it must control people whose numbers are much greater than its own, sheer physical strength is not enough. The ruling class must DIVIDE in order to RULE. Meanwhile they distract the working people of Britain from their own plight.
TOWARDS WORKING CLASS UNITY
But the working class must remember that in their unity is their strength. That the strength of the working class is all powerful because it is based on the determination to end all oppression, all exploitation of man by man, and to oppose all subjection of man on grounds of colour, or creed. Unlike the unity of the capitalists it is based on a total and enduring unity of interests. But in the absence of working class unity, the strength of the capitalists is greatly increased.
SO WE MUST FIGHT VIGOROUSLY AGAINST RACIALISM IN ANY FORM.
WE MUST DEMAND THAT THOSE WHO SEEK TO REPRESENT OUR INTEREST TAKE A FIRM AND PRINCIPLED STAND AGAINST RACIALISM.
WHEN THEY DON'T WE MUST EXPOSE THEM FOR THE HYPOCRITES THEY ARE.
For example, the Labour Government who hit at the living standards of the working people at home with rising prices and a wage freeze and pursue a neo-colonialist policy abroad, sometimes talk against racial discrimination, but in fact do little about it.
Even the Communist Party of Great Britain which we remember fought so vigorously against racialism in the thirties in not doing enough. Where were they at Smethwick, at Southall, at Slough? Where are they now, while fascist bullies walk arrogantly and unafraid in a working class area?
When the ruling-class leadership say: – "The immigrants are coming into your country," we answer: –
YOU, THE CAPITALIST AND IMPERIALIST CLASS, MUST GET OUT OF THOSE COUNTRIES FROM WHICH OUR COLOURED BROTHERS AND SISTERS COME. YOU MUST CEASE YOUR ECONOMIC AND POLITICAL EXPLOITATION OF THESE COUNTRIES WHICH RESULT IN THOSE PITIFUL LIVING CONDITIONS FROM WHICH THEY SEEK TO ESCAPE. WE WILL GIVE THEM EVERY SUPPORT IN THROWING YOU OUT.
When they say: – "The immigrants are taking your jobs," we answer: –
THIS IS A LIE. IT IS THE CAPITALIST SYSTEM WHICH CAUSES UNEMPLOYMENT AS IT DID IN THE 1920s and 30s, WHEN THERE WERE VERY FEW COLOURED PEOPLE IN BRITAIN.
When they say: – "The immigrants are taking your houses," we answer: –
GIVE US MORE HOUSES AT REASONABLE RENTS. END THE UNEARNED INCOMES OF LANDLORDS AND PROPERTY SPECULATORS, THERE WILL BE ENOUGH HOMES FOR ALL.
When they say: – "The immigrants are marrying your daughters," we answer: –
YOU WILL NOT DESTROY THE UNITY OF THE WORKING CLASS ON THE GROUNDS OF COLOUR, CREED, OR SEX. IN OUR UNITY LIES OUR STRENGTH TO FIGHT AGAINST YOU.
WE WILL RESOLUTELY OPPOSE RACIALISM IN ANY FORM.
LONG LIVE UNITY.
"WORKERS OF THE WORLD, OF ALL COLOURS, UNITE!"
---