A. H. Evans
Truth Will Out – Against Modern Revisionism
A Collection of Letters which passed between Arthur Evans and the leadership of the C.P.G.B. between 1947 and 1953.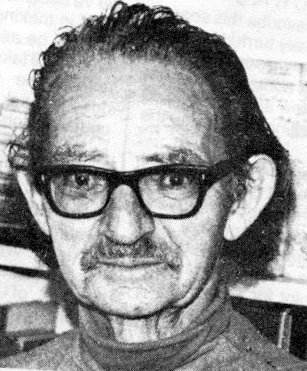 ---
First Published: The Committee to Defeat Revisionism, for Communist Unity, January 1964.
Transcription, Editing and Markup: Paul Saba
Copyright: This work is in the Public Domain under the Creative Commons Common Deed. You can freely copy, distribute and display this work; as well as make derivative and commercial works. Please credit the Encyclopedia of Anti-Revisionism On-Line as your source, include the url to this work, and note any of the transcribers, editors & proofreaders above.
---
CONTENTS
Introduction by Michael McCreery
Letter to London District Committee CP. (25/12/1947)
Letter to Editor, World News and Views (19/5/1949)
Letter to Comrade Klugmann (12/6/1949)
Letter to Comrade Mathews (10/7/1949)
Contribution to Congress Discussion (6/11/1949)
Letter to Editor, World News and Views (18/12/1949)
Letter to Emile Burns (31/1/1950)
Answer of Emile Burns (26/3/1950)
Letter to Emile Burns (2/4/1950)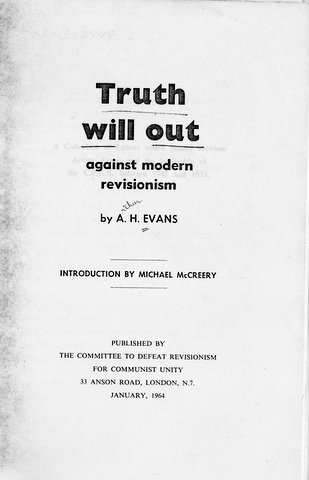 On Dobb's Studies in the Development of Capitalism
A Look at Paul M. Sweezy's "The Theory of Capitalist Development"
Letter to Emile Burns (1/3/1951)
Letter to Maurice Cornforth (14/3/1951)
Letter to Comrade Pollitt (25/3/1951)
Letter to Comrade Pollitt (28/3/1951)
Letter to Professor Hyman Levy (19/4/1951)
Letter to Professor Hyman Levy (24/3/1952)
Letter to Comrade Arnold (12/12/1952)
Notes to John Broom for use in Debate
Letter to Miss S. Lynd (10/1/1951)
Letter to Miss S. Lynd (date unknown)