Vietnam Subject Page
Studies in the organization and politics of Trotskyism in Vietnam
---
Vietnam: Stalinism versus Revolutionary Socialism

By Richard Stephenson [Al Richardson]

A Chartist International Publication, 1972.

(Reprinted in What Next? No.15, 1999).



---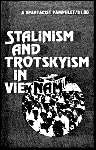 Stalinism & Trotskyism in Vietnam: A Spartacist Pamphlet

A collection of articles written by John Sharpe in April-May 1973, plus other material.

This material first appeared in Workers Vanguard and Spartacist, publications of the Spartacist League (US).

Pamphlet published by the Spartacist Publishing Company, 1976.
---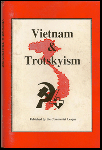 Vietnam & Trotskyism

A series of articles by Simon Pirani together with supplementary material.

The book is based on material published in a seven part series in Workers Press beginning in December 1986.

Workers Press was the weekly paper of the British Workers Revolutionary Party.

Pamphlet published by the Communist League (Australia), 1987.
---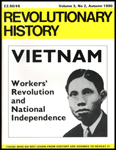 From Revolutionary History magazine

Vietnam: Workers' Revolution & National Independence

Volume 3, No. 2, Autumn, 1990.
---
Last updated 8 October 2013