Mao Tse-tung
On Guerrilla Warfare
---
Appendix
---
TABLE — I
ORGANIZATION OF AN
INDEPENDENT GUERRILLA COMPANY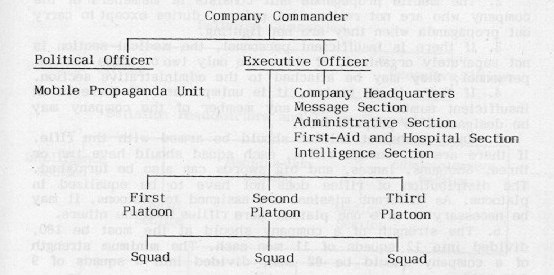 TABLE OF ORGANIZATION,
GUERRILLA COMPANY
| | | |
| --- | --- | --- |
| RANK | PERSONNEL | ARM |
| Company Leader | 1 | Pistol |
| Political Officer | 1 | Pistol |
| Executive Officer | 1 | Pistol |
| Company Headquarters | | |
| Message Section Chief | 1 | |
| Signal | 1 | |
| Administrative Section Chief | 1 | Rifle |
| Public Relations | 3 | Rifle |
| Duty Personnel | 2 | |
| Barber | 1 | |
| Cooks | 10 | |
| Medical Section Chief | 1 | |
| Assistant | 1 | |
| First Aid and Nursing | 4 | |
| Intelligence Section Chief | 1 | Rifle |
| Intelligence | 9 | Rifle |
| Platoon Leaders | 3 | Rifle |
| Squad Leaders | 9 | Rifle |
| Nine Squads (8 each ) | 72 | Rifle |
| TOTAL | 122 | 3 Pistols 98 Rifles |
NOTES
1. Each squad consists of from 9 to 11 men. In case men or arms are not sufficient, the third platoon may be dispensed with or one squad organized as company headquarters.
2. The mobile propaganda unit consists of members of the Company who are not relieved of primary duties except to carry out propaganda when they are not fighting.
3. If there is insufficient personnel, the medical section is not separately organized. If there are only two or three medical personnel, they may be attached to the administrative section.
4. If there is no barber, it is unimportant. If there is an insufficient number of cooks, any member of the company may be designated to prepare food.
5. Each combatant soldier should be armed with the rifle. If there are not enough rifles, each squad should have two or three. Shotguns, lances, and big swords can also be furnished. The distribution of rifles does not have to be equalized in platoons . As different missions are assigned to platoons, it may be necessary to give one platoon more riffles than the others.
6. The strength of a company should at the most be 180, divided into 12 squads of 11 men each. The minimum strength of a company should be 82 men, divided into 6 squads of 9 men each.
TABLE 2
ORGANIZATION OF
AN INDEPENDENT GUERRILLA BATTALION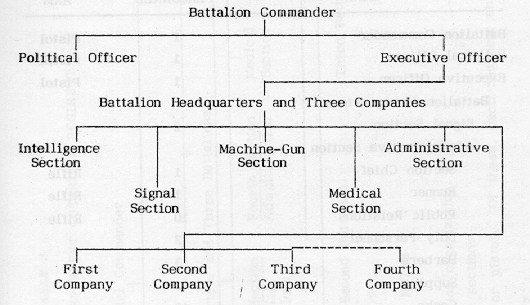 NOTES
1. Total headquarters of an independent guerrilla battalion may vary from a minimum of 46 to a maximum of 110.
2. When there are 4 companies to a battalion, regimental organization should be used.
3. Machine-gun squads may be heavy or light. A light machine-gun squad has from 5 to 7 men. A heavy machine-gun squad has from 7 to 9 men.
4. The intelligence section is organized in from 2 to 4 squads, at least one of which is made up of plain-clothed men. If horses are available, one squad should be mounted.
5. If no men are available for stretcher-bearers, omit them and use the cooks or ask aid from the people.
6. Each company must have at least 25 rifles. The remaining weapons may be fowling -pieces, etc., big swords, or locally made shotguns.
TABLE OF ORGANIZATION,
GUERRILLA BATTALION (INDEPENDENT)
RANK
PERSONNEL
ARM
Battalion Commander
1
Pistol
Political Officer
1
Pistol
Executive Officer
1
Pistol
Battalion Headquarters
Signal Section
2
Administrative Section
Section Chief
1
Rifle
Runner
1
Rifle
Public Relations
10
Rifle
Duty Personnel
2
Barbers
3
Supply
1
Cooks
10
Medical Section
Medical Officer
1
Stretcher-bearers
6
Nursing
4
Intelligence Section
Section Chief
1
Pistol
Intelligence
30
Pistol
Machine-gun Section
As Available
As Available
Total, Headquarters
75
34 Pistols
12 Rifles
Three Companies
(122 each )
366
9 Pistols
294 Rifles
TOTAL
441
43 Pistols
306 Rifles
TABLE 3
ORGANIZATION OF
AN INDEPENDENT GUERRILLA REGIMENT

NOTES
1. See Tables 1 and 2 for company and battalion organization.
2. Battalions and companies have no transport sections.
3. The hand weapon may be either revolver or pistol. Of these, each regiment should have more than 100.
TABLE OF ORGANIZATION,
GUERRILLA REGIMENT
RANK
PERSONNEL
ARM
Regimental Commander
1
Pistol
Political Officer
1
Pistol
Chief of Stuff
1
Pistol
Operations Section
Operations Officer
1
Pistol
Clerks
15
Intelligence Section
Intelligence Officer
1
Pistol
Personnel
36
Pistols
Public-Relations Section
Public-Relations Officer
1
Pistol
Personnel
36
Rifles
Administrative Section
Administrative Officer
1
Pistol
Clerks
15
Pistols
Runner
1
Transport Section
Chief of Section
1
Pistol
Finance
1
Traffic Manager
1
Pistol
Supply
1
Drivers
5
Medical Section
Chief of Section
1
Doctors
2
Nurses
15
Total, Regimental Headquarters
137
60 Pistols
36 Rifles
Three Battalions
(441 each )
1323
129 Pistols
918 Rifles
TOTAL
1460
189 Pistols
954 Rifles
TABLE 4.
ORGANIZATION OF
INDEPENDENT GUERRILLA BRIGADE
(OR DIVISION)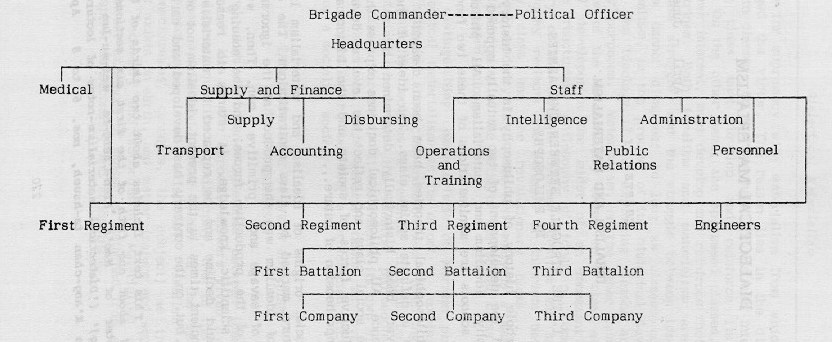 [End]
---