Jews and the Spanish Civil War 1937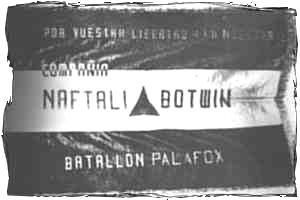 The Forming of the Jewish Naftali Botwin Company
---
Source: David Diamant. Combattants Juifs dans l'Armée Républicaine Espagnole. Editions renouveau, Paris. 1979;
Translated: for marxists.org by Mitch Abidor.
---
Comrade soldiers! Officers and commanders of the Dombrowski Brigade! Comrade Jewish volunteers!
Today, December 12, 1937, there has been added to our glorious and great family of antifascists combatants, the Naftali Botwin Jewish Company. Since the day of our arrival on Spanish soil, our brigade, all of our volunteers have been, first as a company, later as a battalion, and now as a brigade, a great fraternal family that unites all its combatants: Poles, Germans, Ukrainians, Bielorussians, Jews, Hungarians, Spaniards and others.
The common struggle, the common blood spilled, have brought us all increasingly together, and have taught us to esteem and love each other.
We antifascists, without distinction of nationality or political conviction, are firm in putting forth yet another great effort in the struggle against fascism, racism, and anti-Semitism, the struggle for a People's Spain free for the liberation of humanity from fascist bestiality and slavery.
The antifascists of all countries have assisted in the struggle for your liberty and ours.
Among the volunteers of the International Brigades, and especially in the Dombrowski Brigade, the Jewish volunteers have always distinguished themselves by their heroism, their fighting spirit, and their devotion to the struggle against fascism.
Outside Madrid, at Guadalajara, at Brunete, at Saragossa, everywhere that our brigade found itself engaged in the struggle against humanity's mortal enemy — fascism — Jewish volunteers have been found in the front rank, setting an example of heroism and anti-fascist consciousness.
In stressing their great number and the importance of Jewish volunteers in the Dombrowski Brigade, and in order to commemorate the Jewish fighters who have fallen for freedom, we have decided that the Second Company of the heroic Polish Palafox Battalion will be known as the Jewish Company, bearing the name of Naftali Botwin.
The name of Botwin is dear to all of us.
Botwin is the name of the Jewish worker from Poland who sacrificed his young life in the struggle against reaction and fascism, fighting courageously and dying heroically, sentenced to death by a fascist tribunal.
His name is a symbol, and his life an example, of the heroic struggle of the Jewish masses for your freedom and ours, a symbol of international solidarity and the brotherhood of peoples.
The commander of the XIII Brigade-Dombrowki
Janek Barvinski
Political Commisar of the Dombrowski Brigade
Stach Matuszczak
---