How to run your own MIA booth for a festival or event!
---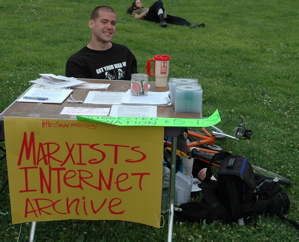 MIA specific items:
Copies of the CD, and cases for those CDs
A MIA sign identifying the booth (with web address)
"Business card" with website address
[optional] Laptop for viewing CD contents (power needs to be available). Bring a box to prevent glare.
Paper to tape to tabletop:
• Describing what MIA is: use the topic sentence of each Charter point
• Detailing what is on the CD
• With our name and URL (in case people stand in front of the booth sign)
• With a suggested donation, and brief explanation that we are non-profit
• (On clipboard) A signup for the what's new mailing list
• A redux of our volunteers page
Miscellaneous Booth items:
Clip-board, paper, and pens
Tape, scissors, and string
Table & at least 1 chair
Donations bucket
Cash box to make change
Paper weights to hold things down in case it is windy
Rain gear to keep things dry if necessary
Sun screen and plenty of water
---
Strategy & Results
Be nice and engaging. People coming to the table are often more interested in reading what is printed out than conversing with the person at the table. A lot of times people who won't ask questions will respond positively to a gentle, "are there any questions I can help you with?"
The what's-on-the-cd sheet taped to the table was really useful for those who wanted CD's. There is a lot of confusion about the CD's (are they music? writers reading their work? oh! actual *books and articles*?) However, we didn't need that many CD's. We typically sell or give out around 10-20 sets. Most said they already knew us or would check us out online.
Oh, and look out! A lot of the people coming to the table/booth are just there to tell you that they visit the site all the time and we're doing a great job.
---