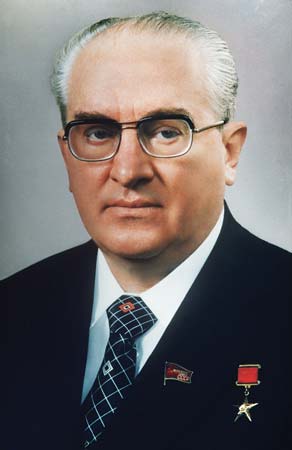 Yuri VladÝmirovich Andrˇpov (2 June/15 June, 1914. – 9 February 1984) was a Soviet politician and General Secretary of the Communist Party of the Soviet Union (CPSU) from 12 November 1982 until his death, fifteen months later,
Andropov joined the Communist Party in 1939. In 1954 he was named ambassador to Hungary, a post he held until 1957. In that role he played a key role in squashing the Hungarian Revolution of 1956. Reportedly, it was he who convinced Nikita Khrushchev of the need for Soviet military repression.
After his return to Moscow he headed the Department for Liaison with Communist and Workers' Parties in Socialist Countries until 1967. He then assumed the leadership of the KGB.
Upon the death of Leonid Brezhnev in 1982, Andropov was named Secretary General of the CPSU, and a year later, President of the Presidium of the Supreme Soviet of the USSR. His short administration was marked by attempts to reform the state bureaucracy and attempts to revitalize the economy. However, health problems forced him out of the public eye in 1983, and he died in 1984 without having enacted any significant changes.