August Bebel
Society of the Future
---
Date Written: Unknown;
Translator: Unknown;
Published: Progress Publishers, 1971;
Online Version: Marxists Internet Archive, 2004;
Transcription: Ted Crawford;
HTML: Mike B.
Supplemental Editing: Adam Buick.
This is an abridged version of the last part of a later German edition (probably 1910) of Bebel's 1879 book "Woman and Socialism," published under this title in 1971 by Progress Publishers, Moscow.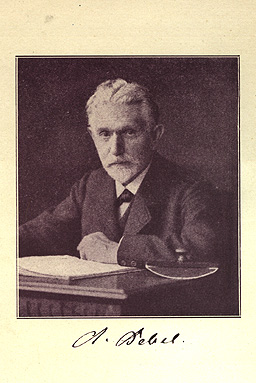 ---
The Transformation of Society
I. Basic Laws of Socialist Society
II. Socialism and Agriculture
III. Withering Away of the State
IV. The Future of Religion
V. The Socialist Education System
VI. Art and Literature in Socialist Society
VII. Free Development of the Individual
VIII. Woman in the Future
IX. Internationalism
X. The Population Problem and Socialism
---