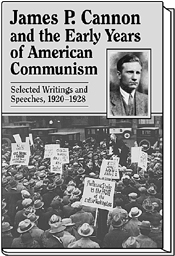 James P. Cannon and the
Early Years of American Communism: Selected Writings and Speeches, 1920-1928
---
© Spartacist Publishing Company, 1992. ISBN 0-9633828-1-0; Published by Spartacist Publishing Company, Box 1377 G.P.O. New York, NY 10116.
Introductory material and notes by the Prometheus Research Library.
Transcription\HTML Markup: Prometheus Research Library
Copyright: Permission for on-line publication provided by Spartacist Publishing Company for use by the James P. Cannon Internet Archive in 2005.
---
Contents
About James P. Cannon
Editorial Note
Introduction: Cannon in the IWW; The Birth of American Communism; Cannon in the Underground; The United States in the 1920s; Cannon's Seven Months in Moscow, 1922; The Degeneration of the Comintern; John Pepper Comes to America; The Farmer-Labor Party; The Split with Fitzpatrick; The Fight Against "Pepperism"; Factional Gang War; Trotsky Fights the "Third Party Alliance"; The 1924-25 Faction Fight; The Fight Against Lore's "Two and a Half Internationalism"; The 1925 Decision on the Labor Party Slogan; The Cannon-Foster Split; The International Labor Defense; The American Negro Labor Congress; The TUEL and the Sixth Plenum of the ECCI; Anti-Trotskyism in the Mid-1920s; Ruthenberg's Sudden Death; Lovestone Becomes Lovestone; Cannon Becomes a Trotskyist.

1920-22
The IWW at Philadelphia, 27 August 1920
Another Renegade, 11 December 1920
The Story of Alex Howat, April 1921
The Political Prisoners, 1 May 1921
Who Can Save the Unions?, 7 May 1921
Workers Party of America Born, 23 December 1921
The American Question, ca. November 1922, with Max Bedacht, Arne Swabeck et al
1923
The Fifth Year of the Russian Revolution, early 1923
What Kind of a Party?, 3 March 1923
Don't Pack the July 3 Conference, 25 May 1923
The Workers Party Today—And Tomorrow, 25 August-22 September 1923
Amalgamation—The Burning Question, 20 September 1923
Statement on Our Labor Party Policy, November 1923, with William Z. Foster
What Happened at Portland?, 24 November 1923
The IWW and the Red International of Labor Unions, 1 December 1923

1924
The IWW Convention, January 1924
Reply to the Thesis of Comrades Lore and Olgin, 12 April 1924, with Alexander Bittelman
St. Paul—June 17th, May 1924
Our Aims and Tactics in the Trade Unions, 27 July 1924
Communist Candidates and the Farmer-Labor Party, 29 July 1924
The Bolshevization of the Party, 5 October 1924
The Minority Attitude Toward Our Election Campaign—A Warning Signal for the Party, 3 December 1924
Lovestone Quotes Mahoney, 8 December 1924
The CEC, the Minority and Comrade Lore, 11 December 1924
How to Organize and Conduct a Study Class, 13 December 1924
A Year of Party Progress, 27 December 1924, with William Z. Foster and Alexander Bittelman
Statement on Two and a Half Internationalism, 27 December 1924, with William Z. Foster, Alexander Bittelman, Earl Browder, Fahle Burman, William F. Dunne and Martin Abern
1925
Controversial Questions in the Workers Party of America, ca. February-March 1925, with William Z. Foster; includes "Recommendations to the American Commission" (excerpt), ca. February-March 1925, with William Z. Foster
Pepper: Menace to Party Unity, 13 February 1925
The Situation Is Different in America, 30 March 1925
We Must Acknowledge Our Mistake, But We Want No Fake Labor Party, 5 April 1925
Proposal On Comrade Pepper, 6 April 1925
Struggle Over Leadership of the ILD, 26 June 1925, minutes of Workers Party Executive Council (excerpt)
ILD Will Grow Quickly, 15 July 1925
Cannon Replies to Henry Askeli, 8 August 1925
Achievements of the Parity Commission, 11 August 1925
Our Party and the Communist International, 4 October 1925
On Trade-Union Policy, 10 October 1925, motions by Cannon, statement by Cannon with William F. Dunne
Unify the Party!, 16 November 1925, with Max Bedacht, William F. Dunne, Jay Lovestone, C.E. Ruthenberg and the National Executive Committee of the YWL
1926
Broaden the TUEL, 18 March 1926
Our World Party at Work, 27 May 1926
The United Front at Passaic, June 1926
For Industrial Groups on a Broader Basis Than the TUEL, 29 October 1926
1927
Conference on Moderating Factionalism, 7 February 1927, unsigned summary of conversation between J. P. Cannon, C.E. Ruthenberg, Max Bedacht and Jay Lovestone
For the Liquidation of Factionalism, 6 May 1927
Theses on the Party Factional Situation (excerpt), ca. May 1927, with William Weinstone
Letter to the American Commission, 16 June 1927, with William Weinstone and William Z. Foster
Report from Moscow, 26 June 1927, unsigned Cannon Group factional circular
Lovestone Faction an Obstacle to Party Unity, ca. June 1927
The Red Month of November, November 1927
1928
Workers Entering New Path of Struggle, 5 February 1928
Party Work and Accountability, March-April 1928
Organization of Propaganda Meetings, 14 May 1928
Opening the Election Campaign, 5 June 1928
I Will Go to the Sixth Congress, 13 June 1928
The Voice of the Communist Movement, 26 June 1928
Trade-Union Questions, July 1928
Against the Opportunism of the Lovestone Majority, 25 July 1928
I Stand on My Record, 27 October 1928
Appendix 1: Cannon's Collaborators
International Labor Defense Activities from January-July 1928, 23 July 1928, by Martin Abern
Letter on the Textile Situation, 23 July 1928, by Arne Swabeck
Report on the Mining Situation by Arne Swabeck and Motions on the Mining Situation, 8 August 1928, by Arne Swabeck and Alfred Wagenknecht
Attack on the National Miners' Union Convention, 18 September 1928, by Martin Abern
Letter to Lovestone, 2 November 1928, by Antoinette Konikow
Appendix 2:
Report to Political Committee on the Right Danger and Trotskyism, 25 December 1928, by Jack Stachel
Glossary
Bibliography of the Writings and Speeches of James P. Cannon, 1912-1928
---