---
Nicolae Ceaușescu
---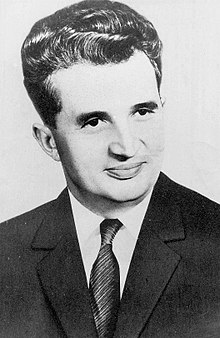 Nicolae Ceaușescu (5 February [O.S. 23 January] 1918 – 25 December 1989), born in 1918 in Scornicești, Olt County, was a Romanian communist politician and head of state. He was the general secretary of the Romanian Communist Party from 1965 to 1989, and the second and last Communist leader of Romania.
In his youth Ceaușescu was a member of the Romanian Communist youth movement. He later rose through the ranks of Gheorghe Gheorghiu-Dej's Socialist government and, upon Gheorghiu-Dej's death in 1965, he succeeded to the leadership of the Romanian Communist Party as General Secretary. In 1967 he was made the country's head of state, serving as President of the State Council and concurrently, from 1974, as President of the Republic.
Ceaușescu received an initial surge of popularity due to easing of censorship, condemnation of the 1968 Warsaw Pact invasion of Czechoslovakia. His government's relative independence from the Soviet Union, allowed the country initially evade some of the Western countries' anti-communist measures and to access Western financial aid and loans.
In time, however, economic mismanagement and austerity imposed in an effort to pay back those loans led to a marked decline in Romanian's standard of living. Politically, his government grew more authoritarian over time as well, with the secret police, the Securitate, engaging in mass surveillance and repression. Censorship was tightened, to the point that radio stations were closed, television broadcasts were limited to a single channel which broadcast only two hours per day, and owners of typewriters were obligated to take them in monthly for the police to obtain typescript samples.
During the Romanian Revolution of 1989, Ceaușescu and his wife, Elena, were captured by troops who had joined the rebellion. After being summarily tried and convicted of economic sabotage and genocide, both were immediately executed by firing squad on 25 December 1989.
WORKS
1969: Interview granted to the Yugoslav Komunist Journal's Chief Editor, Gavro Altman
1970: New Year Message & Interview Granted to Newspaper Yomiuri Shimbun of Japan
1970: Speech at the Festive Meeting Marking the 25th Anniversary of the Establishment of the Democratic Government on March 6, 1945
1970: Successes of Socialism in Romania, a Confirmation of the Correctness of Lenin's Ideas & Speech at the Moscow Festive Meeting Marking Lenin's Birth Centenary
1970: Interview granted to Turkish Journalists
1970: Speech at the Fifth Congress of Consumer Cooperatives of Romania & Speech at Meeting of Basic Cadres of Security, Militia, Procurator's Office and Justice
1970: Interview granted to L'Humanité
1970: Interviews granted to Le Monde and to French Television
1970: Speech at the Plenary Meeting of the Central Committee of the Romanian Communist Party of July 8-9, 1970
1970: Speech at the Opening of the New Academic Year
1970: Interview granted to John P. Wallach, Chief Correspondent of the "Hearst" Press Corporation of the USA
1970: Speech at the U.N. General Assembly Jubilee Session
1970: Exposé at the Foreign Policy Association of New York
1970: Interview granted to Chief Editor Abdeljalil Fenjiro of the "Maghreb Arabe Presse" News Agency & Speech in the Moroccan House of Representatives
1970: Speech at the Romanian-Polish Friendship Meeting
---