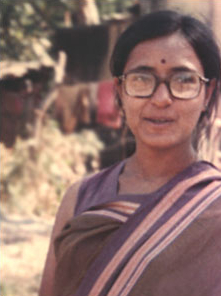 Anuradha Gandhy -née Anuradha Shanbag- was the daughter of a pair of communists, Ganesh and Kumud Shanbag, who were married in the offices of the undivided Communist Party of India (CPI) in Mumbai. Anuradha was born in Mumbai on 28 March 1954.
The young Anuradha Shanbag's interest in politics received a boost while attending Elphinstone College in Mumbai, which was considererd a hub of left-wing activists. Anuradha joined the university-based Progressive Youth Movement , and through it, became acquainted with the Naxalite movement of the day. In 1969 Anuradha Shanbag took part in founding the Communist Party of India (Marxist-Leninist).
She was an instrumental part of the Dalit Panthers movement in 1974. She was also instrumental in the campaign to defend democratic rights during the Emergency. Her work with trade unions, women, and dalit organizations in Vidarbha led her to leave Mumbai for Nagpur in 1982.
In 1983 Anuradha Shanbag married Kobad Ghandy, a PCI (M-L) militant from a Gujarat Parsi family, who himself held leadership posts in the party until his capture and imprisonment in 2009.
In the 1990s, despite having been diagnosed with multiple sclerosis, Anuradha Ghandy moved to Bastar and lived clandestinely in the Dandakaranya Forest with the Communist Party of India (Marxist-Leninist) - People's War group's guerrilla army for three years. In that period, she worked to strengthen the party's work among women and to expand the Krantikari Adivasi Mahila Sanghatan (KAMS).
In the 2000s, she directed the party's work among women, and was the part of the Vidarbha Regional Committee and of the Maharashtra State Committee. At the "Unity" Congress, in 2007, she was elected to the Central Committee of the newly-founded Communist Party of India (Maoist). At the time she was the only women in such a position.
Anuradha Gandhy died on 12 April 2008 from complications from falciparum malaria contracted during her days in the forests of Jharkand.