Kim Jong Il
---
Biography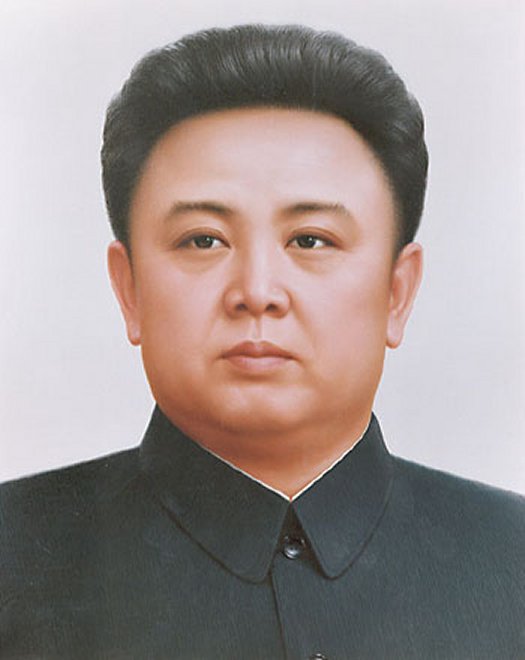 Kim Jong Il (김정일) (February 16, 1941 – December 17, 2011) was a communist politician and head of state of the Democratic People's Republic of Korea (DPRK, or North Korea) from 1994 until his death in 2011. He was the son of the head of the Korean Workers' Party and head of state of the DPRK, Kim Il Sung.
Kim Jong-il entered the ranks of the Korean Workers' Party on July 22, 1961 and soon began to climb in the ranks of the party. He was elected to the Central Committee (CC) of the Workers' Party in October 1972 and was made secretary of the Central Committee in September 1973. He was appointed as a member of the Political Committee of the CC and successor to his father, Kim Il Sung, in February 1974. In October 1980, he was elected to the Presidium of the Political Bureau of the CC, named Secretary of the CC and a made a member of the Central Military Commission of the Party.
At the same time he would hold other state positions, including that of Minister of Culture, head of operations against South Korea, and deputy to the Supreme People's Assembly for its VII-XI Legislatures (1982-2003).
Kim Jong Il assumed the leadership of the DPRK after Kim Il Sung's death in 1994. His tenure was marked by some efforts to improve relations with South Korea and hints of economic reforms similar to those introduced in post-Mao China. But, he was also marked by a subsequent cooling of relations with South Korea -resulting in armed border clashes- and with the United States, in particular around the DPRK's development of nuclear weapons. Internally, in this period the DPRK experienced a famine -caused in large part by imperialist sanctions against the country- in which tens, perhaps hundreds, of thousands of North Korean citizens perished.
Ideologically, Kim built upon Juche (or Zuche) Thought, a philosophy originated by Kim Il Sung, giving it a more ideological character, and capitalized on his late father's prestige to legitmize his policies.
Inside the DPRK Kim became known as "Dear Leader" and the Party and the government built a cult of personality around him like had been built around his father, the "Great Leader". Kim Jong Il became the first head of state of a nominally communist country to assume power on a hereditary basis. (His own son, Kim Jong Un, became the second.)
Biography
Biography, volume 1 (2005)
Biography, volume 2 (2006)
Biography, volume 3 (2008)
Biography, volume 4 (2017)
Kim Jong Il: Short Biography (2001)
Kim Jong Il: Brief History (2021)
Anecdotes of Kim Jong Il's Life, volume 1 (2012)
Anecdotes of Kim Jong Il's Life, volume 2 (2015)
Anecdotes of Kim Jong Il's Life, volume 3 (2016)
History of Revolutionary Activities of Chairman Kim Jong Il (2015)
The People's Leader (2022)
Individual Documents
Worshipping Big Powers and Depending on Foreign Forces is the Way to National Ruin (1961)
Let Us Improve Educational Work in Order to Produce Able Cadres of the Nation (1966)
On Correctly Analyzing and Reviewing the History of the Preceding Revolutionary Ideology of the Working Class (1966)
On the Art of the Cinema (1973)
Scenes and Music (1973)
On the Art of Opera (1974)
Man and Life Must Be Depicted in Song (1974)
On Some Questions in Understanding the Juche Philosophy (1974)
On the Juche Idea (1982)
The Workers' Party of Korea is a Juche-Type Revolutionary Party Which Inherited the Glorious Tradition of the DIU [Down-with-Imperialism Union] (1982)
On Further Developing Educational Work (1984)
The Juche Idea is an Idea that has Inherited and Developed the Progressive Ideologies of Mankind (1986)
On Some Problems of Education in the Juche Idea (1986)
On Further Developing Mass Gymnastics (1987)
On the Art of the Drama (1988)
Let Us Highly Display the Korean-Nation-First Spirit (1989)
On Having a Correct Viewpoint and Understanding of the Juche Philosophy (1990)
On Some Problems of the Ideological Foundation of Socialism (1990)
Let Us Train the Youth Thoroughly Into the Reliable Successors to the Revolutionary Cause of Juche (1990)
The Workers' Party of Korea Organizes and Guides All of the Victories of Our People (1990)
Socialism of Our Country is a Socialism of Our Style as the Embodiment of the Juche Idea (1990)
Our Socialism Centred On the Masses Shall Not Perish (1991)
Let Us Make a Fresh Turn in the Development of Science and Technology (1991)
Let Us Firmly Equip Ourselves With the Theory of Juche-Oriented Socialist Economic Management (1991)
On Architecture (1991)
On the Art of Music (1991)
On Fine Art (1991)
On Juche Literature (1992)
Life and Description (Chapter 5 of On Juche Literature) (1992)
Let Us Further Strengthen Our Single-Hearted Unity and Give Full Play to the Korean-Nation-First Spirit (1992)
Let Us Bring the Advantages of Our People's Government Into Fuller Play (1992)
Socialism is the Life of Our People (1992)
The Times and Outlook on Art and Literature (Chapter 1 of On Juche Literature) (1992)
On the Fundamentals of Revolutionary Party Building (1992)
Let Us Further Improve City Management in Conformity with the Requirements of the Developing Situation (1992)
The Historical Lesson In Building Socialism and the General Line of Our Party (1992)
The Juche Philosophy is an Original Revolutionary Philosophy (1996)
Let Us Glorify the Great Achievements of the Respected Leader Kim Il Sung (1992)
Some Problems Arising in Improving Public Health (1992)
On Strengthening the People's Army and Creating a Social Climate in Which Prominence is Given to Military Affairs (1992)
On Developing Traditional Music in Keeping with Modern Tastes (1993)
Abuses of Socialism Are Intolerable (1993)
Let Us Defend and Accomplish the Juche-Oriented Socialist Cause (1994)
Socialism is a Science (1994)
Let Us Make Our Country, Our Motherland, Ever More Prosperous, True to the Great Leader Comrade Kim Il Sung's Intention (1994)
Let Us Hold the Great Leader in High Esteem Forever and Accomplish His Cause (1994)
Let Us Hold the Great Leader Comrade Kim Il Sung in High Esteem as the Eternal President of Our Republic (1994)
On Preserving the Juche Character and National Character of the Revolution and Construction (1997)
Respecting the Forerunners of the Revolution is a Noble Moral Obligation of Revolutionaries (1995)
Giving Priority to Ideological Work is Essential for Accomplishing Socialism (1995)
The Great Leader Comrade Kim Il Sung Will Always Be With Our People (1996)
On Bringing About a Fresh Change in Land Management (1996)
Let Us Exalt the Brilliance of Comrade Kim Il Sung's Idea on the Youth Movement and the Achievements Made Under His Leadership (1996)
Let Us Carry Out the Great Leader Kim Il Sung's Instructions for National Reunification (1997)
Let Us Reunify the Country Independently and Peacefully Through the Great Unity of the Entire Nation (1998)
Holding the Great Comrade Kim Il Sung in High Esteem is the Noblest Moral Obligation of Our Party and People (1999)
Answers to Questions Raised by ITAR-TASS (2001)
Kim Chaek University of Technology is a Powerful Base of Our Country for Training People Talented in Science and Technology (2001)
Answers to Questions Raised by the President of Kyodo News Service (2002)
On Having a Correct Understanding of Nationalism (2002)
Let Us Build Our Country Into a Beautiful Land of the Age of the Workers' Party Through Effective Forest and Water Conservation (2002)
The Grand Mass Gymnastics and Artistic Performance Arirang is a World-Class Masterpiece Representative of the New Century (2002)
The Songun-Based Revolutionary Line is a Great Revolutionary Line of Our Era and an Ever-Victorious Banner of Our Revolution (2003)
Kimilsungia is an Immortal Flower that Has Bloomed in the Hearts of Mankind in the Era of Independence (2005)
The Democratic People's Republic of Korea is a Juche-Oriented Socialist State with Invincible Might (2008)
The Anti-Japanese War Heroine Kim Jong Suk Will Live for Ever in the Hearts of Our People (2009)
On Bringing About a Revolutionary Improvement in the Public Health Service in Order to Display to the Full the Advantages of the Socialist Healthcare System (2011)
Answers to Questions Raised by ITAR-TASS of Russia (2011)
On Holding the Great Leader Kim Il Sung in High Esteem and Exalting the Brilliance of His Achievements (2015; contains texts from 1992-1999)
The Workers' Party of Korea is the Party of the Great Leader Comrade Kim Il Sung (2020; contains texts from 1982, 1990, and 1995)
On Adding Brilliance to the Cause of Building a Juche-Oriented Party (2020; contains texts from 1990, 1992, and 1995 )
On Adding Brilliance to Comrade Kim Il Sung's Ideas of Leadership Exploits in the Youth Movement (2020; contains texts from 1990, 1993, and 1996)
On Further Developing Public Health Service (2021; contains texts from 1974, 1985, 1992)
Comrade Kim Il Sung is the Eternal President of our Republic (2022; contains texts from 1994 and 1996)

Let Us Glorify the Great Achievements of Comrade Kim Il Sung (2022; contains texts from 1992-1997)

On the Juche Philosophy (2022; contains texts from 1992-1997)

Let Us Serve the People (2022; contains texts from 1984, 1988, and 2003)

Selected Works
Kim Jong Il's Aphorisms (2008)
Selected Works; Volume 2: 1970-1972
Selected Works; Volume 9: 1997-1989
Selected Works; Volume 10: 1990
Selected Works; Volume 11: January-July 1991
Selected Works; Volume 12: August 1991-January 1992
Selected Works; Volume 13: February 1992-December 1994
Selected Works; Volume 14: 1995-1999
Selected Works; Volume 15: 2000-2004
---