Marx and Engels, 1848
On Poland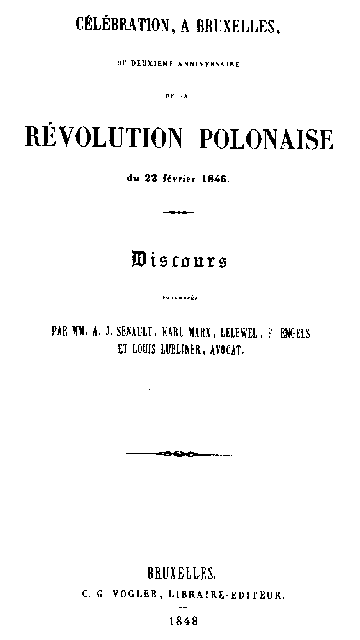 ---
Speeches at the International Meeting Held in London on November 29, 1847
to mark the 17th Anniversary of the Polish Uprising of 1830
Marx's Speech.
Engels' Speech.
Speech by Bakunin on same occasion in Paris
Article by Engels in La Réforme, Dec 5 1847
The Anniversary of the Polish Revolution of 1830.
Speeches Commemorating 2nd Anniversary of the Krakow Uprising,
Brussels, February 22, 1848
Marx's Speech: Communism, Revolution and a Free Poland
Engels' Speech: The Polish and German People have the same enemies

A New Partition of Poland, Engels June 9 1848
A New Policy in Posen, Engels June 21 1848
The Frankfurt Assembly Debates the Polish Question, Engels August 7 1848.

---