Communist Party of Australia. 1945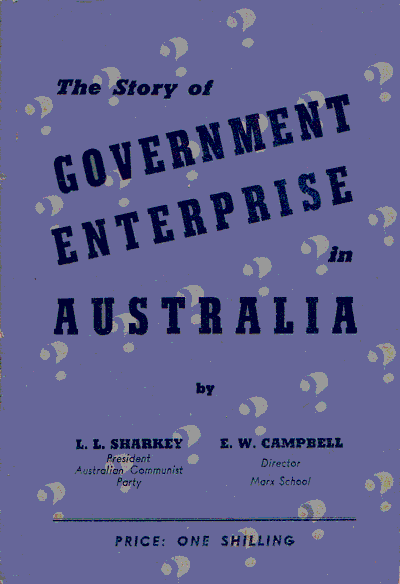 The Story of Government Enterprise in Australia
The Real History of the Commonwealth Bank, The Commonwealth Shipping Line, State Brickworks etc.
by Lance Sharkey and Ernie Campbell
---
Published: Australian Communist Party, 695 George St, Sydney, January 1945. 80pp, By L. L. Sharkey, President, Australian Communist Party and E.W. Campbell, Director, Marx School;
Source: Left History Archive.
---
Contents
Hands Off the People's Property!
Origin of Government Enterprise
Private Enterprise Fails to Build Railways
Government Provides Better Service at Cheaper Rates
In the Grip of the Bondholder
Private Enterprise Saddled Us with Break of Gauge
The Commonwealth Bank: A People's Bank or a Banker's Bank?
Sir Denison Miller: Banker, Not Fakir
The Fleet That Was Scuttled
How the Dockyard Was Ditched
Walsh Island Too Goes West
A Nine Guinea Suit for Thirty Shillings
Flow Oil or Palm Oil?
Skyway Robbery
Socialism at Work
Day Labor Saves Money
Cutting Timber Costs
Butchers Got More Than Their Chop
Holing the Net of the Fish Market Manipulators
Besting the Beer Barons
C.S.R. Still Gets the Sugar
The Great Brickworks Swindle
What the Nationalised Enterprises Have Proved
Nationalisation is the Logical Next Step in the Advance of the Labor Movement

---