Josip Broz Tito
Letter to the Twentieth Congress of the Communist Party of the Soviet Union
---
Date: February 20, 1956
Source: Tito: Selected Speeches and Articles, 1941-1961 pp. 181-182; originally published in Collected Works, Book XI, pp. 55-56
Published: Naprijed, 1963
Transciption/HTML Markup: Mike B. for MIA, 2010
Public Domain: Marxists Internet Archive (2010). You may freely copy, distribute, display and perform this work; as well as make derivative and commercial works. Please credit "Marxists Internet Archive" as your source.
---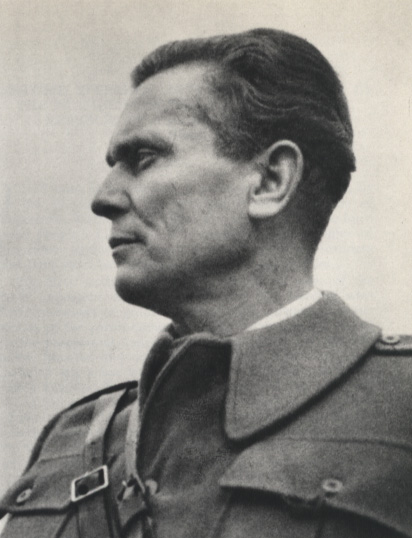 Dear Comrades,
Permit me on behalf of the League of Communists of Yugoslavia and the Socialist Alliance of Working People of Yugoslavia to send to your 20th Congress of the CPSU comradely greetings and sincere wishes for succesful and fruitful work for the benefit of your great socialist country and for the benefit of further peaceable development in international relations and co-operation.
I believe that this Congress will have great significance, not only for internal plans for aiding the development and adding to the strength of the USSR, but also in the foreign policy field, in the direction of strengthening peace and peaceful solutions to the various disputes whose acuteness and immediacy still cause anxiety in the world, and also because it is necessary to rally and strengthen all progressive forces in the world in order to prevent fresh armed conflicts and devastations with all their fearful consequences for the whole of mankind.
Our country is very well aware of the tremendous triumphs you have achieved in the industrialisation of your country, and we who in our time have seen the backwardness of your enormous country can best judge how tremendous were the efforts which the peoples of the USSR had to make, particularly the communists with their leninist consistency, firmness, and tenacity, before they achieved these great triumphs. Our own experience, our efforts, our difficulties, and every kind of obstacle in she way of our building up socialism, have taught us how to make a correct appraisal of all the difficulties and labours which you had to overcome before reaching your present level of development.
The visit of your leaders, Comrades Khrushchev, Bulganin, and Mikoyan, to our country last year, in 1955, and the announcement of the so-called Belgrade Declaration, not only ushered in a new period in the development of relations between our two countries and our relations with the other countries of people's democracy, but it also had a powerful, positive influence on the development of international relations, both in respect of giving strength to peaceable forces and also in respect of gradually establishing confidence and mutual understanding among nations and relaxing tensions and the fear of a new war.
I consider that we are far from having grounds for complacency about the present international situation, but it can be said with complete conviction that the voice of peace can be heard in increasing volume above the noise of certain appeals for war. Finally, comrades, I think we can be satisfied with the gradual and continuous improvement in our relations and I think that the fact that it is gradual is a most healthy omen for the establishment of firm mutual trust and co-operation, and at the same time it makes it possible for all the elements which might hamper the strengthening of our mutual confidence to be eliminated from everyday practice.
With comradely greetings,
Josip Broz Tito
«Borba», February 20, 1956.
---