Josip Broz Tito
Speech Delivered at the Mass Meeting of Cairo Citizens
---
Date: February 21, 1959
Source: Tito: Selected Speeches and Articles, 1941-1961 pp. 240-243; originally published in the "Introduction" to Book XIV, p. 117-120.
Published: Naprijed, 1963
Transciption/HTML Markup: Mike B. for MIA, 2011
Public Domain: Marxists Internet Archive (2011). You may freely copy, distribute, display and perform this work; as well as make derivative and commercial works. Please credit "Marxists Internet Archive" as your source.
---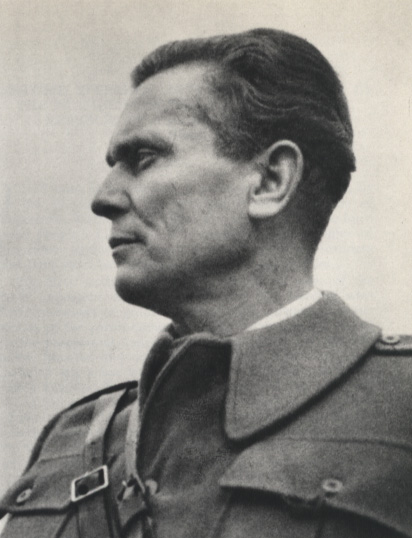 Dear friends,
I am very happy to be able to avail myself of this opportunity to convey to you, on this great day, the cordial greetings of eighteen million Yugoslavs as well as their best wishes on the occasion of your Day of Unification.
While watching this magnificent rally, I recalled those days in my own country when we lived through difficult and critical moments, but when we also had moments of joy. I could say that I have simply forgotten that I am here, in your midst — for I felt as if I were at home. I noticed that you have reacted to the speech of your great President in the same way as our people react on similar occasions. Unfortunately, I could not understand the speech, but, as far as I have grasped it, its basic elements, which constitute a pro- gramme for you, are very important.
You know that you have a great friend in the peoples of Yugoslavia. We followed your fight for independence and our sympathies were on your side. Our peoples continue to follow with interest your efforts to develop your country as well as your ende- avours and struggle to safeguard your independence. Last year they were happy to welcome the unification of two countries, Egypt and Syria. The peoples of Yugoslavia are in deep sympathy with you, as they have also had to cope with similar situations as the one with which you are faced today. We have also had to face very difficult moments in our history, both more remote and recent. We are not in an easy situation today either, but we are strong thanks to the unity of our peoples. And here, when we watch you, your United Arab Republic, we realise wherein lies the guarantee of your power: it is in your unity.
Your unity, of course, is not to the liking of some people. Because the saying "divide and rule!" has not yet completely lost its sway in the world. There are still people, and even some great powers in the world, who do not like to see people and nations united. They prefer to 'see the peoples disunited, quarrelling among themselves, because it is easier for them in that case to achieve their aims.
Many objections are being raised with regard to Arab nationalism today, my friends. It is alleged that it is a negative and obsolete cause, that it constitutes a danger for other peoples. Some people, of course, have good reason to be afraid of Arab nationalism, because its very renascence represents the greatest obstacle preventing them from realising their imperialist aims in this part of the world. And how could you have warded off all the difficulties besetting you at present, if not through your unity, your reborn national consciousness and your will to unite your forces in order to safeguard your individuality and ensure your unhampered development. Your Arab nationalism — which is fighting for the safeguarding of its independence and whose aim is that the Arab peoples should not be disunited, that they should not quarrel among themselves but should cooperate — is a positive phenomenon. A nationalism which aims at building a happier future for the present and future generations of Arab peoples and which upholds the principles of the Bandung Conference, a nationalism which is fighting, together with all the peaceful forces of the world, against war and for peace and which advocates that relations among all peoples should be based on equality — such a nationalism is positive and makes a great contribution to the noble strivings of mankind.
We understand you and consider that you are on the right road and that you are justified in striving to make of your country a strong factor in this part of the world. We see in this the best guarantee for the preservation of peace and this will, at the same time, represent a contribution to peace throughout the world.
Dear friends,
We have visited several distant lands and have seen millions of people in the various countries of Asia and Africa and we can say that the spirit we have witnessed here, today, is alive everywhere. All those peoples wish to be left in peace, if they cannot be helped by those who could do it, in order to build their future as best they can and to be masters in their own house. I am happy to say that we have the best memories from these countries. We have nevertheless noticed that there are still many problems in those countries, that there are many difficulties against which those people have to fight. We have also witnessed among them a strong faith in their own abilities, a firm conviction that they would overcome all difficulties, although they might seem to be insurmountable. They have a single thought and purpose, viz. to make up as soon as possible for what they have not been able to attain so far, not through any fault of their own but through the fault of those who had, by their colonial policies, prevented these countries from developing. The peoples of those countries are awakened and they are firmly united in the defence of independence and freedom and in the efforts to safeguard world peace, to prevent interference in their internal affairs and to bring about cooperation, based on equality, among all peoples. The peoples of Yugoslavia are together with all the peoples of Asia and Africa; they are together with you and will continue to be with you, because they are going through the same difficulties and their road is just as arduous and thorny as yours.
I was here three years ago and I wish to say how happy I am to see what a great stride forward you have made during this short period, in spite of all the difficulties created from abroad. You know that the peoples of Yugoslavia experienced great anguish during your Suez ordeal, that they supported you actively and were on your side with body and soul. You enjoy the sincere sympathies of all the freedom-loving peoples of the world, and particularly of Yugoslavia. The relations between Yugoslavia and the United Arab Republic are extremely warm and friendly. Cooperation between us is growing to the mutual benefit of our two countries. I am gratified to note that the short conversation I had with your great President Nasser and other leaders has proved once again that, in foreign policy, we uphold the same fundamental principles, that we pursue common aims in the fight for the independence, freedom and equality of peoples, for peace and general progress in the world.
I have said that you have achieved so far great successes as a result of your persistent struggle and efforts. I am convinced that you will be able to achieve even more rapid and greater successes in the future thanks, in the first place, to your internal unity. In the pressent-day situation, as was the case in Yugoslavia in the most difficult hours of her history, it is essential that you should preserve this unity. Everyone who fosters dissension in this difficult situation is a destructive clement and an enemy of his country and his own people. I am happy to see that you stand united behind your President and your leadership, and this is bound to ensure your success.
I greet you once again, my friends, and congratulate you on this great holiday.
---