Leo Tolstoy Archive
---
What is Art?
Appendix 1
---
Written: 1897
Source: Original Text from Gutenberg.org
Transcription/Markup: Andy Carloff
Online Source: RevoltLib.com; 2021
---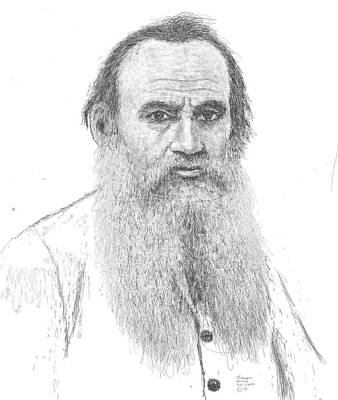 This is the first page of Mallarmé's book Divagations:—
LE PHÉNOMÈNE FUTUR.
Un ciel pâle, sur le monde qui finit de décrépitude, va peut-être partir avec les nuages: les lambeaux de la pourpre usée des couchants déteignent dans une rivière dormant à l'horizon submergé de rayons et d'eau. Les arbres s'ennuient, et, sous leur feuillage blanchi (de la poussière du temps plutôt que celle des chemins) monte la maison en toile de Montreur de choses Passées: maint réverbère attend le crépuscule et ravive les visages d'une malheureuse foule, vaincue par la maladie immortelle et le péché des siècles, d'hommes près de leurs chétives complices enceintes des fruits misérables avec lesquels périra la terre. Dans le silence inquiet de tous les yeux suppliant là-bas le soleil qui, sous l'eau, s'enfonce avec le désespoir d'un cri, voici le simple boniment: "Nulle enseigne ne vous régale du spectacle intérieur, car il n'est pas maintenant un peintre capable d'en donner une omber triste. J'apporte, vivante (et préservée à travers les ans par la science souveraine) une Femme d'autrefois. Quelque folie, originelle et naïve, une extase d'or, je ne sais quoi! par elle nommé sa chevelure, se 216ploie avec la grâce des étoffes autour d'un visage qu' éclaire la nudité sanglante de ses lèvres. A la place du vêtement vain, elle a un corps; et les yeux, semblables aux pierres rares! ne valent pas ce regard qui sort de sa chair heureuse: des seins levés comme s'ils étaient pleins d'un lait éternel, la pointe vers le ciel, les jambes lisses qui gardent le sel de la mer première." Se rappelant leurs pauvres épouses, chauves, morbides et pleines d'horreur, les maris se pressent: elles aussi par curiosité, mélancoliques, veulent voir.
Quand tous auront contemplé la noble créature, vestige de quelque époque déjà maudite, les uns indifférents, car ils n'auront pas eu la force de comprendre, mais d'autres navrés et la paupière humide de larmes résignées, se regarderont; tandis que les poètes de ces temps, sentant se rallumer leur yeux éteints, s'achemineront vers leur lampe, le cerveau ivre un instant d'une gloire confuse, hantés du Rythme et dans l'oubli d'exister à une époque qui survit à la beauté.
THE FUTURE PHENOMENON—by Mallarmé
A pale sky, above the world that is ending through decrepitude, going perhaps to pass away with the clouds: shreds of worn-out purple of the sunsets wash off their color in a river sleeping on the horizon, submerged with rays and water. The trees are weary and, beneath their foliage, whitened (by the dust of time rather than that of the roads), rises the canvas house of "Showman of things Past." Many a lamp awaits the gloaming and brightens the faces of a miserable crowd vanquished by the immortal illness and the sin of ages, of men by the sides of their puny accomplices pregnant with the miserable fruit with which the world will perish. In the anxious silence of all the eyes supplicating the sun there, which sinks under the water with the desperation of a cry, this is the plain announcement: "No sign-board now regales you with the spectacle that is inside, for there is no painter now capable of giving even a sad shadow of it. I bring living (and preserved by sovereign science through the years) a Woman of other days. Some kind of folly, naïve and original, an ecstasy of gold, I know not what, by her called her hair, clings with the grace of some material round a face brightened by the blood-red nudity of her lips. In place of vain clothing, she has a body; and 217her eyes, resembling precious stones! are not worth that look, which comes from her happy flesh: breasts raised as if full of eternal milk, the points towards the sky; the smooth legs, that keep the salt of the first sea." Remembering their poor spouses, bald, morbid, and full of horrors, the husbands press forward: the women too, from curiosity, gloomily wish to see.
When all shall have contemplated the noble creature, vestige of some epoch already damned, some indifferently, for they will not have had strength to understand, but others broken-hearted and with eyelids wet with tears of resignation, will look at each other; while the poets of those times, feeling their dim eyes rekindled, will make their way towards their lamp, their brain for an instant drunk with confused glory, haunted by Rhythm and forgetful that they exist at an epoch which has survived beauty.
---