---
Fa
---
Fabius Maximus, Quintus
A Roman General in the 3rd century B.C.E. He was called the Cunctator (Procrastinator) for his wholly inactive tactics and evasion of decisive battles in the war with Hannibal.
Faizunnesa Choudhurani (1834-1903)
Pioneer of women's education in Bangladesh.
Nawab Faizunnesa Choudhurani, one of the pioneers of mass campaign for female education, social worker and poet, was born in the village of Pashchimgaon under Lakhsam Thana of the district of Comilla in Bangladesh.
Her father Ahmmad Ali Chowdhury, a Zamindar (landlord) of Homnabad- Pashchimgaon estate was a learned gentleman. As a devout Muslim, having stayed within the strict Purda, Faizunnesa became proficient in all classical languages like Arabic, Farsi and Urdu as well as Bangla and Sanskrit.
In 1860, Faizunnesa was married to a distant cousin and neighbouring Zamindar, Muhammad Gazi, becoming his second wife.
But the couple became separated for an unknown reason and Faizunnesa began to live with her paternal family. After her mother's death in 1883, she inherited her father's property and became the Zamindar of Pashchimgaon.
She became increasingly involved in social work after becoming Zamindar. In 1873, Faizunnesa Choudhurani established a girls' high school in Comilla which is one of the earliest female schools privately established in the Subcontinent. She also founded a school at Pashchimgaon that was later upgraded to a college and now named as Nawab Faizunnesa Degree College.
In appreciation of her social work, in 1889 British Queen Victoria awarded Faizunnesa the title of 'Nawab Bahadur' making her the first woman in the then British empire to receive this title.
Faizunnesa cultivated Bangla at a time when it was not normally practised by Muslim aristrocrats.
Roop Jalal (1876), an autobiographical allegory which describes her troubled conjugal life, is written in prose and verse and has been acclaimed for its literary value. Roop Jalal depicts the social condition of Muslim society in the nineteenth century. She also wrote a number of other books: Sangitsar (The Essence of Music) and Sangitlahari (The Rythm of Music).
In 1903, she passed away in her own home and was buried in the family graveyard.
After more than one century the state of Bangladesh recognized Nawab Faizunnesa's unique personality by conferring upon her the Ekushey Padak, the highest honor of the state (posthumously) in 2004. But none of her relatives were there to receive it.
Fang Zhimin (Fang Chih-min) (1900-1935)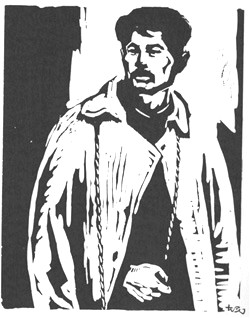 Born into a peasant family in Yixian County, Jaingxi Province, Fang joined the Chinese Communist Party (CCP) in 1923. From 1925 to 1927, Fang led the revolution in Jaingxi against feudal warlords and imperialists. Organized peasant uprisings when Chiang Kai-shek turned on the CCP in 1927. Member of the Sixth Central Committee of the CCP. Recruited troops for the Red Army, founded the Tenth Red Army and established a revolutionary base in the Fujian-Zhejiang-Jaingxi Border Area. Mobilized by the CCP Central Committee in 1933, Fang moved his troops north to meet the invading forces of Japanese imperialism. Captured during a January 1935 battle with Guomindang (Kuomintang or "Chinese National People's Party") forces, Fang was imprisoned. While in custody, Fang was reportedly pressured to denounce the CCP. When prompted to draft a "confession," he wrote:
'I am convinced that the revolution will triumph in the end. I am willing to sacrifice everything, to give my life, for the soviets and our revolution...'
Fang continued propaganda work and activism from his prison cell until his execution on August 6, 1935.
Prior to his death, Fang arranged to have some of his writings smuggled out of prison and given to Lu Xun, one of China's most prominent and politically astute writers of the day. Lu ultimately passed on these works, including "Beloved China" and "Honest Poverty" to the CCP.
Fang Zhimin was mentioned by name in one of Mao's most famous early works, 'A Single Spark Can Start A Prairie Fire'. Mao cited Fang's policy of "establishing base areas; of systematically setting up political power; of deepening the agrarian revolution; of expanding the people's armed … etc." as vundoubtedly correct.'
[Compiled by Mike Bessler, 2010, largely using Wei Chun-yi's work: 'Fang Chih-min's Essays Written in Prison', as published in Chinese Literature, No. 2, 1978]
Fanon, Franz (1925-1961)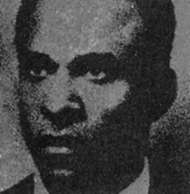 West Indian psychoanalyst and social philosopher, known for his theory that some neuroses are socially generated and for his writings on behalf of the national liberation of colonial peoples.
After attending schools in Martinique and France, Fanon served in the French army during World War II and afterward completed his studies in medicine and psychiatry at the University of Lyon. In 1953-56 he served as head of the psychiatry department of Blida-Joinville Hospital in Algeria, which was then part of France. He joined the Algerian liberation movement in 1954 and in 1956 became an editor of its newspaper, El Moudjahid, published in Tunis. In 1960 he was appointed ambassador to Ghana by the rebel Provisional Government.
Fanon's Black Skin, White Masks (1952) reflected his personal frustrations with racism. The publication shortly before his death of his book The Wretched of the Earth (1961) established Fanon as a prophetic figure, the author of a social gospel that urged colonised peoples to purge themselves of their degradation in a "collective catharsis" to be achieved by violence against their European oppressors. This book traced the stages of development of culture and social development as a new nation emerges from the domination of colonialism and he warned of the dangers of a nation achieving national liberation before achieving maturity in the development of its own culture, pointing to the United States as an example.
The national liberation struggle which Fanon spoke for and Fanon's writings themselves served as a source of intellectual inspiration for the US Black Civil Rights movement and subsequently the women's liberation movement.
See Frantz Fanon Archive.
---