---
Fl
---
Flerovsky, Vassili Vassilyevitch (1829-1918)
Pseudonym for Vassily Vassilyevish Bervi. Russian publicist, Narodnik. In 1862, having protested against the actions of the Government, he drew reprisals upon himself and was first banished to Astrakhan (SW Russia, city on the Caspian Sea), then to Siberia (Kuznezk, Tomsk oblast) and later to the northern part of European Russia (Vologda, Tver). In the 1880s he left Russia. Wrote The Condition of the Working Class in Russia, published in 1869.
Flieg, Leo (1893–1939) .
From Jewish family, office worker in commerce. Active in Socialist Youth from 1908, became bank employee. Conscripted in 1914, employed as secretary in General Staff, whilst also member of Spartacus League and youth organisation. Secretary to Jogiches, arrested in March 1918, freed by November Revolution. Organiser of Young Communist International and member of Executive up to 1922. Then secretary to KPD (Kommunistischen Partei Deutschlands/German Communist Party) Politbureau, and in 1923 responsible for contacts in Berlin with OMS. Influential behind scenes in KPD (Kommunistischen Partei Deutschlands/German Communist Party) up to 1933, then emigrated to Moscow, later to Paris. Recalled to Moscow in 1937, considered refusal but returned, arrested on arrival and probably murdered in 1939.
Flynn, Elizabeth Gurley (1890-1964)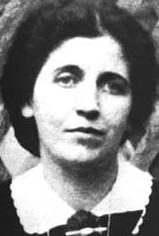 Elizabeth Gurley Flynn was born in 1890 to socialist parents in New Hampshire, who would move their family to New York when Elizabeth was young. As a teenager Flynn joined the Industrial Workers of the World (IWW) and began her long career of speaking and agitating for free speech and worker's and women's rights, resulting in her getting expelled from high school.
In 1907 Flynn became a full-time organizer for the IWW, traveling all over the Eastern U.S. to join garment and restaurant labor struggles as well as to a miners strike in Minnesota, and a lumber strike in Montana. She would be arrested numerous times as an agitator in some of the major labor struggles of the period, including the Lowell Mass mill strike and the Paterson silk workers strike.
After visiting songwriter Joe Hill in prison, he composed the song in her honor that would become her trademark, titled "The Rebel Girl."
A founding member of the American Civil Liberties Union, she was involved in the campaign against the conviction in the Sacco-Vanzetti case. In 1936 Flynn joined the Communist Party and wrote a bi-weekly column for women's rights for the Daily Worker, and chaired the women's commission. In two years she was elected to the CP national committee. In 1942 Flynn ran for Congress in New York and received 50,000 votes.
Flynn was arrested in 1951 along with other members of the CP for advocating the overthrow of the U.S. government by force and violence. She was convicted after a nine-month trial and served two years in the women's penitentiary at Alderson, West Virginia. She later published a book detailing her time in prison in The Alderson Story: My Life as a Political Prisoner, 1955.
Elizabeth Gurley Flynn became national chairman of the Communist Party in 1961. She died suddenly on one of her visits to the Soviet Union representing the CP in 1964. She was given a state funeral in Red Square, and then her remains were flown to the U.S. for burial near the graves of Eugene Debs, Bill Haywood and the Haymarket Martyrs in Chicago.
Further Reading: Women and Marxism: Elizabeth Gurley Flynn
---