---
Kh
---
Khan, Zahrul Hasan
Joined Bolshevik Leninist Party of India in Calcutta. Formed Damkal Mazdur Union (firefighters). Organizer, Titaghur Jute Factory Union, Titaghur, and Burn and Co. pottery workers union, Raniganj, 1947. Executive Committee, Workers United Front, 1947. President, Ranigunj Paper Mill Workers' Union, 1948. Vice President, Bengal Provincial Trade Union Congress. Attended Bolshevik Leninist Party of India conference, 1948. Entered SP with Bolshevik Leninist Party of India, 1948. Elected to Hind Mazdoor Sabha. Ran for West Bengal Lesislative Assembly from Titagarh Constituency, 1951 (lost). Became independent trade unionist after 1952 elections.
Compiled by Charles Wesley Ervin
Khlestakov
The leading character in Gogol's comedy The Inspector-General; an arrant boaster and liar.
Khrushchev, Nikita (1894-1971)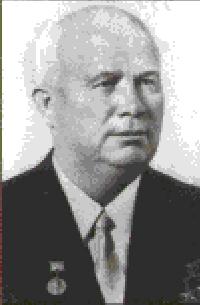 Nikita Khrushchev was born in 1894 in the Ukraine, the son of a miner; joined the Communist Party during the Civil War. Worked his way up the Party, and was appointed Prime Minister of the Ukraine when it occupied was by the Red Army. He was appointed First Secretary of the Soviet Communist Party in September 1953, six months after Stalin's death. In January 1956 he delivered the famous 'secret speech' at the Twentieth Congress of the CPSU, denouncing Stalin's crimes. In his speech Khrushchev spoke of the murder of political opponents, criminal misleadership in the War and systematic rewriting of history. Khrushchev achieved the position of head of state in March 1958, holding that post until he was removed in 1964, and died while in retirement in 1971. Khrushchev was a product of Stalin's bureaucracy, and once the tyrant was gone, it was he who first dared to speak. Tried to introduce elements of market economy and liberalisation; coined phrases 'cult of personality' and 'peaceful co-existence'.
See Khrushchev Archive.
---