---
Nk
---
Nkrumah, Kwame (1909-1972)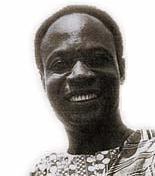 Kwame Nkrumah became the first prime and later president of Ghana. He was born on September 21, 1909, at Nkroful in what was then the British-ruled Gold Coast, the son of a goldsmith. Trained as a teacher, he went to the United States in 1935 for advanced studies and continued his schooling in England, where he helped organize the Pan-African Congress in 1945. He returned to Ghana in 1947 and became general secretary of the newly founded United Gold Coast Convention but split from it in 1949 to form the Convention People's party (CPP).
After his 'positive action' campaign created disturbances in 1950, Nkrumah was jailed, but when the CPP swept the 1951 elections, he was freed to form a government, and he led the colony to independence as Ghana in 1957. A firm believer in African liberation, Nkrumah pursued a radical pan-African policy, playing a key role in the formation of the Organization of African Unity in 1963. As head of government, he was less successful however, and as time passed he was accused of forming a dictatorship. In 1964 he formed a one-party state, with himself as president for life, and was accused of actively promoting a cult of his own personality. Overthrown by the military in 1966, with the help of western backing, he spent his last years in exile, dying in Bucharest, Romania, on April 27, 1972. His legacy and dream of a "United States of African" still remains a goal among many.
Nkrumah was the motivating force behind the movement for independence of Ghana, then British West Africa, and its first president when it became independent in 1957. His 1965 work Neocolonialism, the last stage of imperialism, shares with Che Guevara the credit for introducing the concept of "neocolonialism."
Further Reading:
Neocolonialism, the last stage of imperialism, 1965
Dr. Kwame Nkrumah [external link].
---