---
Ol
---
Olgin, Moissaye J. (1878-1939)
Moissaye J. Olgin was born in 1878 on shtetl near Kiev. After attending a traditional Jewish cheder he entered the University of Kiev, where he began his career as a revolutionary. In 1901 he was elected chairman of the Student's Central Committee, while also being a member of the revolutionary group, Freiheit. In April 1903 the Czarist regime ordered his arrest for his role in the formation of Jewish self-defense groups, at which point he moved to Vilna, Poland.
In Vilna he was a member of the Jewish Bund, and was arrested for his activities there. He was in Vilna during the 1905 revolution, and authored all the proclamations issued by the Bund during that period.
>From 1907-10 he had studied at Heidelberg, and was in Germany when World War I broke out. Unable to return to Russia, he emigrated to the U.S. in 1915, where he immediately became a contributor to the Yiddish Socialist daily the "Forward."
In 1917 he authored an early book on the Russian Revolution (The Soul of the Russian Revolution) and when the Jewish Socialist Federation split in 1921 he severed relations with the "Forward" and was a founding member of the Workers Party. He was an early organizer in the Jewish section of the Party, and was a founder of the Yiddish Communist daily the "Morning Freiheit," which he edited until his death. He was also a member of the National Committee of the CPUSA for many years.
Aside from his countless newspaper articles and editorials, he wrote many books, and was responsible for translating several volumes of Lenin's Collected Worsk into English, as well as Yiddish translations of Engels' Peasant War in Germany, John Reed's Ten Days that Shook the World, and Jack London's Call of the Wild.
He died on November 22, 1939. His photo appeared on the masthead of the "Freiheit" decades after his death, until the newspaper folded in 1988.
Olsen, Jeanette (1873-1959)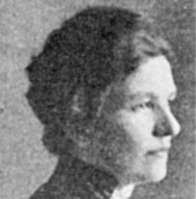 A CC member of the CP during the '20s, and in charge of the CP women's movement, where she edited the women's magazine, the Spark. She left the CP when it refused to support the first Norwegian Labour government in 1928, but later rejoined. She was expelled for "Trotskyism" in 1936, and went on to start a Trotskyist newspaper and group, called October.
---