Encyclopedia of Anti-Revisionism On-Line
---
Organization of Communist Workers (Marxist-Leninist)
The Movement For The Party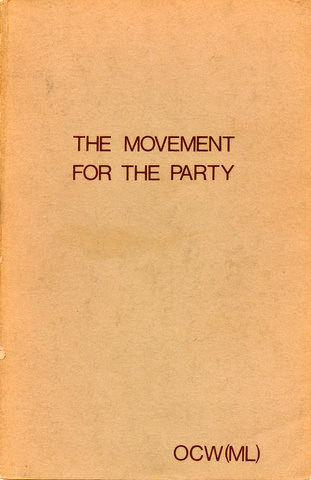 ---
First Published: 1977
Transcription, Editing and Markup: Malcolm and Paul Saba
Copyright: This work is in the Public Domain under the Creative Commons Common Deed. You can freely copy, distribute and display this work; as well as make derivative and commercial works. Please credit the Encyclopedia of Anti-Revisionism On-Line as your source, include the url to this work, and note any of the transcribers, editors & proofreaders above.
---
I. THEORETICAL
II. THE COMMUNIST PARTY OF CANADA (MARXIST-LENINIST)
III. THE SO-CALLED "BOLSHEVIK TENDENCY"
IV. THE MOUVEMENT REVOLUTIONNAIRE DES ETUDIANTS DU QUEBEC
V. THE CANADIAN COMMUNIST LEAGUE (MARXIST-LENINIST)
A. A Brief History Of The CCL And Its Component Parts
VI. EN LUTTE!
FOOTNOTES
APPENDIX
Statement of the OCW(ML) and CWG(ML) on THE SITUATION IN CHINA AND SOCIAL-CHAUVINISM IN OUR MOVEMENT
---