Encyclopedia of Anti-Revisionism On-Line
---
Committee of U.S. bolsheviks
Imperialism, Superprofits and the Bribery of the U.S. "Anti-Revisionist Communist Movement"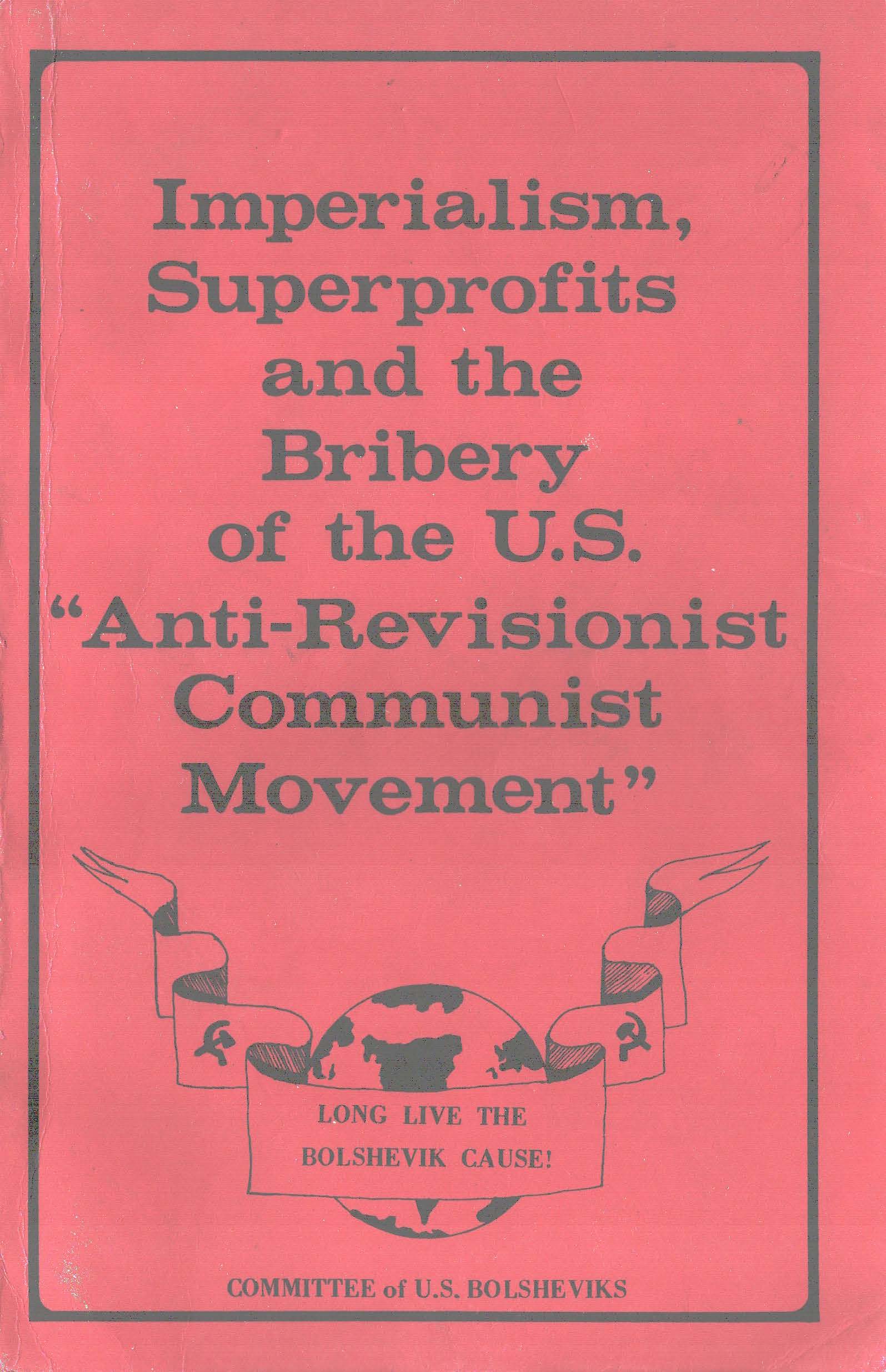 ---
First Published: August 1979.
Transcription, Editing and Markup: Paul Saba
Copyright: This work is in the Public Domain under the Creative Commons Common Deed. You can freely copy, distribute and display this work; as well as make derivative and commercial works. Please credit the Encyclopedia of Anti-Revisionism On-Line as your source, include the url to this work, and note any of the transcribers, editors & proofreaders above.
---
Table of Contents
PART ONE – CONSTRUCT THE LENINIST PARTY OF A NEW TYPE
How the "Friends of the People" Keep the Working Class in Bondage
Many Parties of the Old Type
I. Concealment of Superprofits in Defense of Privileges
II. SDS: Grandchild of the 2nd International, Father of the "Anti-Revisionist Communist Movement"
IV. Some Questions Pertaining to the Connection Between the "CPUSA" and "CPC", and the "New Left"
V. Conciliation to Opportunism – "Two Wings" or One Pro-Chinese Revisionist Movement?
VI. Two Rotten Eggs Laid by Mao Zedong: "Political Line is Key Link", and "Theory is Principal"
VII. Social Chauvinists and Centrists Cover Up for Political Police Activity
VIII. Split and Decayed – The Present State of the Opportunist Movement
IX. Dead Set Against Proletarian Discipline and Organization
X. Conclusion – Collapse of the Mensheviks and the Tasks of the Bolsheviks
In Commemoration of May Day and the 161st Anniversary of the Birth of Karl Marx (Speech Given on May 5, 1979)
PART TWO – THE ADVANCED WORKERS WILL BUILD THE PARTY TO COMPLETION (Reprints) [NOT INCLUDED HERE – EROL]
August Bebel – Leader of the German Workers by J. V. Stalin
August Bebel by V. I. Lenin
Comrade G. Telia by J.V. Stalin
Ivan Babushkin by C. Bobrovskaya
Appendix One: The Party (from Foundations of Leninism) by J. V. Stalin
Appendix Two: The Struggle Against the Provocateur (Comintern Article, 1932)
---