Nick Howard Archive   |   ETOL Main Page
---
Phil Turner
Nick Howard 1933–2016
(September 2016)
---
From Socialist Worker, 20 September 2016.
Copied with thanks from the Socialist Worker Website.
Marked up by Einde O' Callaghan for the Encyclopaedia of Trotskyism On-Line (ETOL).
---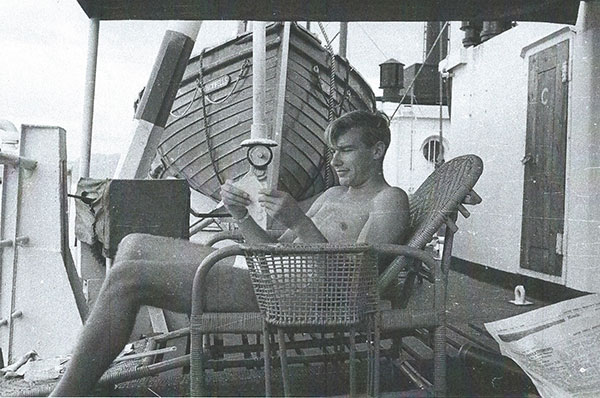 Nick Howard on board ship from his little book Slow Boats to China 1957–1959
Nick Howard, an inspiring revolutionary socialist for six decades, has died a few days after his 83rd birthday.
In an extraordinary life, Nick was an eyewitness to revolution around the world in the 1950s. Serving in the Merchant Navy for ten years became a tour of political hotspots.
"I always happened to be somewhere where things were going off,"; Nick said in an archive interview.
He was working as a ship's officer and navigator sailing in the Suez Canal the day Egyptian leader Gamal Abdul Nasser nationalised it. "Gentlemen, you're now working for Col. Nasser," Nick recalled an Egyptian officer telling the crew. Nick refused to serve on a British government supply ship after war broke out.
Another ship he served on was "arrested" during a US-backed right-wing island rebellion against President Sukarno in Indonesia. Such events politicised Nick. He left the sea after taking part in a strike over conditions.
He worked in a maritime library then won a scholarship to the London School of Economics where he joined the International Socialism Group, later known as the International Socialists (IS), forerunner to the Socialist Workers Party, around 1961–62.
After he graduated from the LSE in 1964 he got a job teaching in Sheffield where he was tasked by SWP founder Tony Cliff with building the IS branch. Key activities included involvement in a council rent strike in 1967. He also helped draw rank and file miners to the organisation during the strikes of 1972 and 1974.
He even met Che Guevara and other leaders of the Cuban revolution in 1961 after putting his navy service to political use to sign up on a Greek ship travelling to Havana.
Nick is fondly remembered for introducing Marxist politics to a generation of miners and steelworkers through working as a tutor and lecturer on adult education day-release courses at Sheffield University from 1964 to 1997.
He carried out maritime research which took him to Rio de Janeiro, Lisbon, Cádiz, Hamburg, Helsinki, Rostock and Warnemünde. Other works include the history of the steelworkers' unions, a study of the Puddlers' Unions in the 1860s and a study on teaching art therapy.
The Nick Howard Papers, kept by Sheffield University, contain a wide-ranging body of documents and sound recordings relating to Nick's research on the blockade of Germany after World War I and the influenza pandemic. They also have his interviews with Wilhelm Necker, financial director of the Bauhaus, and contributions to a series of radio programmes for BBC Radio Sheffield on the history of the labour movement in the Sheffield region.

Argued
Nick had his own ideas, always argued his own position and stuck to his guns whatever the circumstances. His active participation in Sheffield Pensioners' Action Group in the face of political opponents is just one example of that.
You could not fall out with Nick. He was as generous in discussion as he was as a comrade and friend. Politics was his life until the end. He hoped to live to see Jeremy Corbyn re-elected as Labour leader.
As Sheffield comrades know only too well, he would politely ignore whoever was chairing a meeting to make his point. In his memory this article should probably go on longer, like his always insightful, but lengthy, contributions. That kindly, passionate influence will be sadly missed.
Commiserations from Sheffield comrades to his partner Jenny, daughters Rachel and Rebecca and son Luke.
---
Nick Howard Archive   |   ETOL Main Page
Last updated: 20 February 2020