Communist Party of Great Britain
Twenty-First National Congress
Communist Policy to Meet the Crisis
November 1949
---
Source: Communist Policy to Meet the Crisis, Report of the 21st National Congress of the Communist Party, November 1949.
Publisher: Communist Party of Great Britain
HTML Markup: Brian Reid
Public Domain: Marxists Internet Archive (2008). You may freely copy, distribute, display and perform this work; as well as make derivative and commercial works. Please credit "Marxists Internet Archive" as your source.
---
Table of Contents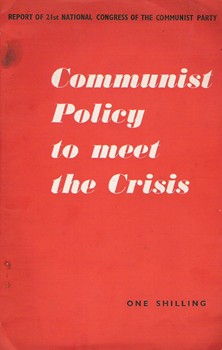 Opening Remarks, Arthur Horner
Political Report, Harry Pollitt
Colonial Liberation, John Horner
The Battle of Ideas, James Gardner
Reply to the Discussion, J. R. Campbell
Report of the Election Programme, R. P. Dutt
Closing Remarks, Wm. Gallacher, M.P.
---