Soviet Union Information Bureau
The Soviet Union: Facts, Descriptions, Statistics
---
First Published: 1929
Source: Soviet Union Information Bureau, Washington D.C. ("This book is composed and printed by union labor.")
Transcription: Brian Baggins
Proofing Status: Brian Baggins (1/2004). Please help by proofing this document (compare it with the PDF version) and send corrections to Brian Baggins.
Copyleft: Soviet History Archive (marxists.org) 2002-2004. Permission is granted to copy and/or distribute this document under the terms of the GNU Free Documentation License.

---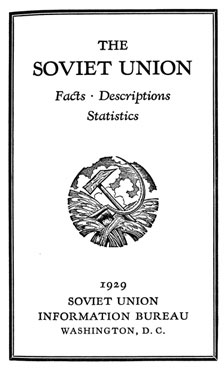 Contents:
Introduction
Area and Population
Government
Natural Resources
Agriculture
Industry
Domestic Trade
Transportation
Merchant Marine and Ports
Communications
Electrification
Finance
Foreign Trade
American-Soviet Trade
Concessions
Patents
Cooperatives
Labor
Insurance
Newspapers And Books
Public Health
Education
The Arts
Science
Society For Cultural Relations
Women in U.S.S.R.
Rights of Foreigners
Books and Pamphlets About U.S.S.R.
Chronicle of Events, 1917-1928
Miscellaneous
---