Jews, Marxism and the Worker's Movement
---
ILGWU News-History, 1900-1950
A Chronicle of the International Ladies' Garment Workers' Union, Done in the Manner of a Newspaper Comprised Chiefly of Accounts and Illustrations Drawn from Contemporary Sources, Prepared and Edited by the Staff of Justice, the Official Publication of the I.L.G.W.U.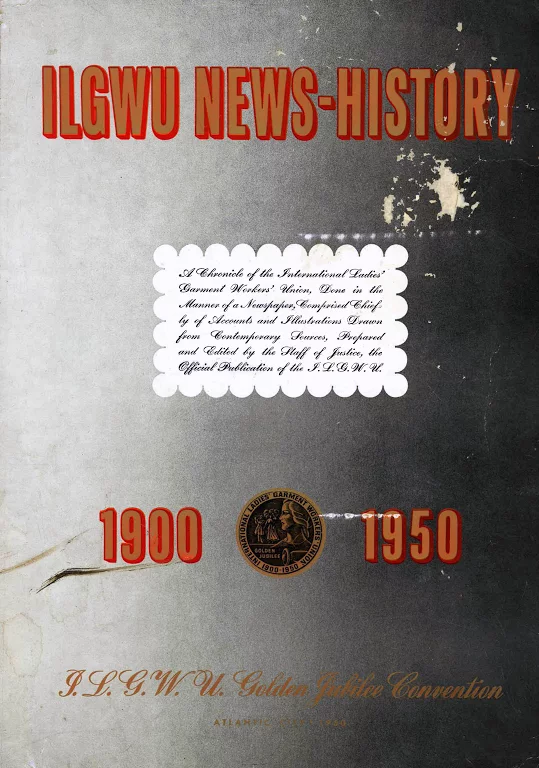 ---
First Published: 1950.
Transcription, Editing and Markup: Paul Saba
Copyright: This work is in the Public Domain under the Creative Commons Common Deed. You can freely copy, distribute and display this work; as well as make derivative and commercial works. Please credit the Marxist Internet Archive as your source, include the url to this work, and note any of the transcribers, editors & proofreaders above.
---
CONTENTS
CHAPTER 1: THE ERA OF THE SWEATSHOP – TO 1900
Eleven cloakmakers start the ILGWU – Congress asked to ban sweated work – Police club New York garment strikers – BERNARD BRAFF reports the first ILGWU meeting – ALFRED MARSHALL, JOHN A. HOBSON, SELIG PERLMAN comment on the sweatshop – JOHN R. COMMONS splotlights the contractor – A state factory inspector is shocked –THE TIMES argues for an end to the sweatshop – AB. CAHAN notes the influx of new workers – ABRAHAM ROSENBERG tells how a strike was kept alive – THORSTEIN VEBLEN describes the social functions of clothing – FLORENCE KELLEY deplores working conditions in Chicago needle trades–A boy becomes a strike leader – JOSEPH BARONDESS and PETER SISSMAN remember first union efforts in New York and Chicago.
CHAPTER 2: FIGHT FOR SURVIVAL – 1900-1909
Boston fights for closed shops – JACOB HELLER recounts the bloody reefer strike of 1907 – BENJAMIN SCHLESINGER wonders why 42,500 cloakmakers are not in the union – ISAAC HOURWICH defends the new immigrant – DR. ANTONIO STELLA grieves for the ailing italian immigrant – HUTCHINS HAPGOOD hears the song of the Ghetto – A general strike looms in the dress industry – SADIE FROWNE, skirtmaker, tells her story – RAY STANNARD BAKER insists the open shop is an evil – ERNEST POOLE hails the rise of factory production – New sewing machines mean lower rates – LILLIAN D. WALD warns that legislation is not enough – EDWIN MARKHAM mourns for the child with the needle.
CHAPTER 3: UPRISING OF THE TWENTY THOUSAND – 1909-1910
The historic Cooper Union meeting – CLARA LEMLICH gives the reasons for the strike – Hillquit exposes bosses' maneuvers – Cops rough up pickets – Park Ave. dowagers hear pickets' story – SARAH COMSTOCK visits strike headquarters – MIRIAM FINN SCOTT and IDA M. TARBELL add up the gains of the strike.
CHAPTER 4: THE GREAT REVOLT – 1910-1911
ABRAHAM ROSENBERG waits for the strike's zero hour – The cloakmakers walk out – MEYER LONDON states the reasons for the strike – THE TIMES pities the employers – LOUIS D. BRANDEIS heads the bargaining conferences – EDITH WYATT explains failure of Marshall proposal – The General Strike Committee reports – CHAS. H. WINSLOW, J. B. McPHERSON and MARY BROWN SUMNER tally the strike gains – BENJAMIN SCHLESINGER and JOHN B. LENNON tell the significance of the strike – The Triangle fire – ROSEY SAFRAN tells how she escaped – ARTHUR E. McFARLANE charges there were not enough fire escapes – MARTHA BENSLEY BRUERE connects the Triangle fire and the Triangle strike – The city sorrows as the funeral cortege winds through downtown Manhattan – ROSE SCHNEIDERMAN and MORRIS HILLQUIT express citizens' protests – Cartoons by BOARDMAN ROBINSON, LOLA and JOHN SLOAN.
CHAPTER 5: YEARS OF THE PROTOCOL – 1911-1915
Col. Theodore Roosevelt stomps into kimono makers' strike headquarters – Twelve strikers jailed in Kalamazoo – JOSEPHINE CASEY writes from jail – The Joint Board of Sanitary Control pictures the shop of 1911 – ISAAC HOURWICH, B. HOFFMAN and the editors of the "Ladies Garment Worker" in a lively debate on industrial issues – The Protocol of Peace is abrogated by the employers – Hourwich resigns – JOHN A. DYCHE and N. I. STONE discuss the standard rate. Cartoons from "The Big Stick."
CHAPTER 6: LOCKOUT AND FRAME-UP – 1915-1920
Seven ILGWU officers accused of murder are acquitted – Cloakmakers call strike – FELIX ADLER accuses employers – Hundreds join cloak and dress walkouts – MOTHER JONES reports even the devil hates scabs – HELEN KELLER contributes $200 to cloak strike fund – CHARLES BEARD, JOHN DEWEY, JAMES HARVEY ROBINSON, JAMES T. SHOTWELL and other teachers charge employers with responsibility for strike – The New York press reports the lockout and strike – Week work vs. piece work. Cartoons by BECKER and CESARE.
CHAPTER 7: THE UNION UNDER FIRE – 1920-1927
Forty thousand cloakmakers strike – SELIG PERLMAN tells how Judge Wagner stopped the openshoppers – ILGWU scores victories in Cincinnati and Boston – MORRIS HILLQUIT and PAUL F. BRISSENDEN weigh Judge Wagner's injunction – SUMNER H. SLICHTER traces the engineering efforts of Cleveland garment industry – JOHN NICHOLAS BEFFEL admires the courage of Chicago strikers – JAMES ONEAL sees the "lefts" take a walk at the 1925 convention – EDWARD LEVINSON shows how Communists misled the 1926 strike into disaster – ILGWU pioneers in workers' education – Gov. Smith's Commission calls for contractor limitation – MORRIS SIGMAN pleads for the preservation of the union and is barred from phony rally – The General Executive Board warns of Communist subterfuges – Communists in garment industry are routed – GEORGE SOULE concludes that militancy is not enough. Cartoons by BAER and ART YOUNG.
CHAPTER 8: FROM DARKNESS TO DAWN – 1928-1933
Cleveland limits contractors – Dressmakers and cloakmakers strike – BENJAMIN SCHLESINSER and DAVID DUBINSKY point the way to 1LGWU rehabilitation – LOUIS STARK reports the 1929 cloak walkout – HERBERT H. LEHMAN finds strong unions help – Week work fails as cure-all – Jobbers told to pay enough – ILGWU behind $250,000 bond issue – 14-machine clause upheld – GEORGE BRITT discovers Seventh Ave. morale at record low– Dressmakers smash 1932 union-busting drive – Look to codes to lift depressed conditions – FRANKLIN D. ROOSEVELT applauds mutual peace efforts – JACOB H. HOLLANDER wonders about the ordeals of impartial chairmen – Cartoons by ENRIGHT and HARDING.
CHAPTER 9: NRA AND RECOVERY – 1933-1937
DAVID DUBINSKY proclaims the hour for action – Philadelphia strike touches off national drive – Membership soars to 200,-000 – Attempts to undermine standards are defeated – FRANCES PERKINS adds up the real cost of a $5 dress – ROSE C. FELD exposes the reasons for homework – AFL and CIO split – Police intervene in Boston strike – Labor Party is formed – JULIUS HOCHMAN and DAVID SCHEYER tell why a dress strike looms – Judge McCook orders Blue Dale Dress Co. back to New York – ELLEN WILKINSON walks a Cleveland picket line. Cartoons by ROLLIN KIRBY and ART YOUNG.
CHAPTER 10: THE ILGWU COMES OF AGE – 1937-1940
Garment strikes sweep nation – Labor Party campaigns for LaGuardia – JOSEPH SHAPLEN reports ILGWU efforts to promote labor unity – Phony Donnelly union ordered dissolved – Montreal firms settle – ILGWU moves for labor peace – HEYWOOD BROUN enjoys "Pins and Needles" – Garment workers return to AFL – Dubinsky urges racketeers be ousted – Dress union to promote New York product. Cartoons by FITZPATRICK and HERBLOCK.
CHAPTER 11: THE WAR YEARS – 1941-1945
Garment workers mobilize for war aid – EVELYN SMITH and J. B. COLLINS report Kentucky and Tennessee ILGWU drives – FTC charges cloak conspiracy – Bevin opens ILGWU seamen's club in London – LaGuardia auctions dressmakers' paintings – The President of the United States delivers a kiss – ILG smokes bring home to the fronts – Garment workers' war aid record – Cloakmakers win retirement plan – JAMES H. HAGERTY, DENIS TILDEN LYNCH, FREDERICK WOLTMAN and ARNOLD BEICHMAN report the liberal, Commie tug-of-war in ALP – Dressmakers win health benefits – Cheering thousands hail Roosevelt – Umhey hits M-388 – WILFRED CARSEL learns that garment industry is toughest to control – J. C. FURNAS notes the rise of the housedress – ANN LOUGHLIN, in war, thinks of the tasks of peace.
CHAPTER 12: ILGWU AT MID-CENTURY – 1945-1950
Garment workers seek FM radio licenses – FREDERICK F. UMHEY presents labor's broadcasting plans – CHESTER BOWLES hopes to solve clothing crisis – A. H. RASKIN tells how dress strike was averted – ELEANOR ROOSEVELT and VICTOR RIESEL enjoy Unity House –Hoodlums invade New York Dress Joint Board offices – Pres. Dubinsky argues against Taft-Hartley bill before Senate Labor Committee – ELINORE M. HERRICK points to ILGWU welfare funds as models – Garment workers campaign for election of Pres. Truman – BRUCE BLIVEN, IRVING LIEBERMAN, ROBERT WILLIAMS and JOHN McKEON depict the martyrdom of William Lurye – DAVID DUBINSKY traces the role of the AFL in international labor affairs – NELSON FRANK learns that new ICFTU faces tests – SAMUEL LUBELL finds ILGWU plays important international aid part – ILGWU Training Institute opens – MURRAY KEMPTON visits.
---