---
GUY ALDRED
(1886 - 1963)
---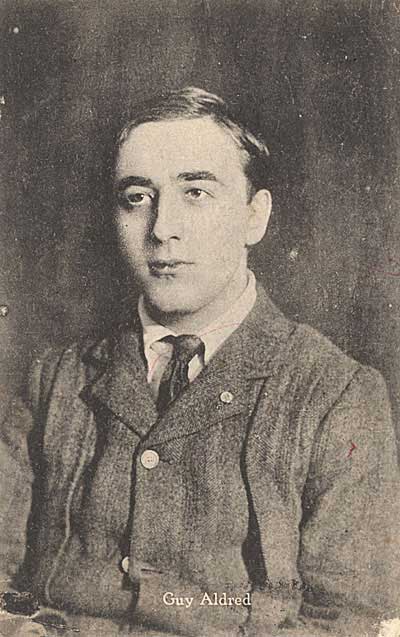 Guy Alfred Aldred, was a British communist and anarchist.
Though English by birth, Aldred lived in Scotland from 1912 onwards. In Glasgow he established the Glasgow Anarchist Group and the Communist Propaganda Groups, in support of Russia's October Revolution. The Communist Propaganda Groups later became a component of the Communist League in 1919.
Following the collapse of the Communist League, Aldred founded the Anti-Parliamentary Communist Federation (APCF) in 1921, and gradually moved towards opposing the Soviet Union. However, he softened his stance toward the Soviet Union following the death of Joseph Stalin.
Aldred's links with left communists across Europe brought him close to council communism. In 1932 he split with the Anti-Parliamentary Communist Federation and later founded the Workers Open Forum, which eventually became the United Socialist Movement. During World War II the USM organized with people from across the political spectrum, in a form of Popular Front, to oppose military action and came to advocate World Government.
Aldred also agitated in support of many other causes during his lifetime, including syndicalism, Indian independence, and legalized contraception. He also edited and published five newspapers in Scotland: The Herald of Revolt, The Spur, The Commune, The Council, and The Word.
He died of heart problems in a Glasgow hospital in 1963.
Works
Books
1912: Richard Carlile: His Battle for the Free Press...How Defiance Defeated Government Terrorism (PDF)
1913: Dogmas Discarded (PDF)
1914: Socialism and Marriage (PDF)
1935: Communism : Story of the Communist Party
1940: Pioneers of Anti-Parliamentarism (PDF) — Chapters Published as Pamphlets:
1915: The Socialism and Anti-Parliamentarism of William Morris (PDF)

1940: Introducing Bakunin

1940: Red May and the Physiognomy of Social Revolution: The Story of the Chicago Martyrs
Articles
1906: The Case for Anarchism (PDF)
1908: The Logic and Economics of the Class Struggle (PDF)
1910: Representation and the State (PDF)
1919: Trade Unionism and the Class War (PDF)
1920: Michael Bakunin, Communist (PDF)
1923: Socialism and Parliament
1944: A Call to Manhood, and other studies in social struggle
1947: Bakunin's Writings
1963: The Two Nations: A May Day Message (PDF)
_______________
The Word, newspaper edited and published by G. A. Aldred
---