Ales Bebler
Peace and Greece
---
Date: October 27, 1948
Source: Peace and Greece: Two Speeches of Dr. Ales Bebler 1
originally published by The Permanent Delegation of The Federal People's Republic of Yugoslavia to the United Nations
Published: New York, 1949
Transciption/HTML Markup: Mike B. for MIA, August 2012
Public Domain: Marxists Internet Archive (2012). You may freely copy, distribute, display and perform this work; as well as make derivative and commercial works. Please credit "Marxists Internet Archive" as your source.
---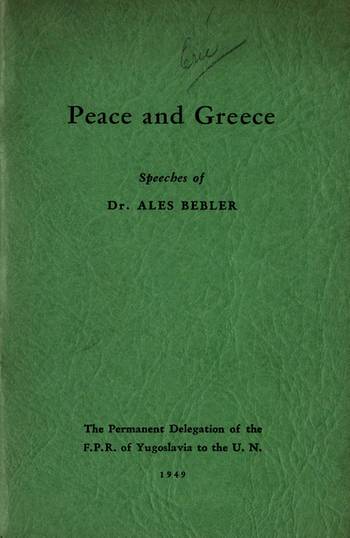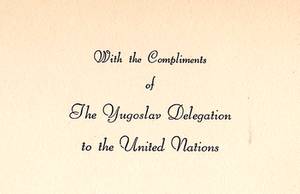 Introduction
     The U. S. A. Takes Over from Great Britain
     The Almighty Grip of American Business
     Blessings of American Aid
     Where the Dollars Go — No Mystery
     What the Greek Press Says
     A Little Gentle Pressure
     Laws for Greece, Made in America
     Crumbs and Fetters
     The Greek Army on the United States Payroll
     Gen. Van Fleet: "Capture and Kill"
     No Mere Advisors
     The Why and Wherefore
     The U.S. Navy Comes Visiting
     A Little Reminder of the Atom Bomb
     Serious Questions
     Border Provocations
     And Provocations from High Places
     Goebbels Speaks in Greek
     Monarcho-Fascist Courage
     What of the Greek People?
     A Merry Christmas in Greece
     Government by Court Martial
     Shot for "Common Crimes"—i.e., Resisting the Nazi Occupation
     "Fighting Communism"
     Refugees in Their Own Country
     A Slaughter of the Innocents
     Terror Balked by Mercy
     The People Fight Back
     All Greece Rises
     Travel in The Peloponnesus
     The Secret of Partisan Success
     Material Might vs. Democratic Determination
     A Statesmanlike Proposal
---
1. Deputy Minister of Foreign Affairs and Acting Chief of the Delegation of the FPR of Yugoslavia to the Third Session of the General Assembly of the United Nations
---