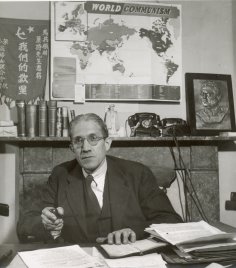 Rajani Palme Dutt
1896-1974
"Many would-be reformers of capitalism (including the Labour Party propagandists and the Independent Labour Party) urge that if only the capitalists would pay higher wages to the workers, enabling them to buy more of what they produce, there would be no crisis. This is utopian nonsense, which ignores the inevitable laws of capitalism—the drive for profits, and the drive of competition. The drive of capitalism is always to increase its profits by every possible means, to increase its surplus, not decrease it." — Capitalism or Socialism in Britain?
---
From his supporters:
Tribute, John Gollan
RPD—Memories and Reflections, Andrew Rothstein
Rajani Palme Dutt—Great Son of the Indian People, Dilip Bose
From his detractors:
R.P. Dutt: Stalin's British mouthpiece, Jim Higgins
The Shyster Lawyer, Duncan Hallas
Works:
1920: The Sabotage of Europe
1921: Back to Plotinus, Review of Shaw's Back to Methusela: A Metaphysical Pentateuch
1921: Psycho-Analysing the Bolshevik, Review of Kolnai's Psycho-analysis and Sociology
1922: The End of Gandhi
1923: The British Empire
1923: The Issue in Europe
1926: The Meaning of the General Strike (pamphlet)
1926: Trotsky and His English Critics
1928: Indian Awakening
1931: India
1931: Capitalism or Socialism in Britain? (pamphlet)
1933: Democracy and Fascism (pamphlet)
1933: A Note on the Falsification of Engels' Preface to "Marx's 'Class Struggles in France"
1934: Fascism and Social Revolution (off site — PLP)
1935: The Question of Fascism and Capitalist Decay
1935: British Policy and Nazi Germany
1935: The British-German Alliance in the Open
1936: In Memory of Shapurji Saklatvala
1936: Anti-Imperialist People's Front in India, written with Ben Bradley
1936: Left Nationalism in India
1938: On the Eve of the Indian National Congress, with Harry Pollitt and Ben Bradley
1938: The Philosophy of a Natural Scientist
1938: The Philosophy of a Natural Scientist, a Rejoinder to Levy
1938: Review of Marx & Engels on the U.S. Civil War
1939: Why this War? (pamphlet)
1940: Twentieth Anniversary of the Communist Party of Great Britain
1947: Declaration on Palestine, at the Empire Communist Parties Conference, London on 26 February to 3 March 1947
1949: Introductory Report on Election Programme
1953: Stalin and the Future
1963: Problems of Contemporary History
1964: The Internationale, 1964
1967: Whither China?
---