J. T. Murphy
The Political Meaning
of the Great Strike
---
Date: September 1926
Publisher: The Communist Party of Great Britain
Transcription/Markup: Brian Reid
Public Domain: Marxists Internet Archive (2007). You may freely copy, distribute, display and perform this work; as well as make derivative and commercial works. Please credit "Marxists Internet Archive" as your source.
---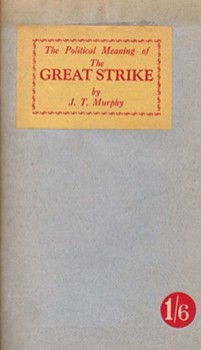 Contents:
Preface, J. R. Campbell

I. Introduction

II. What Led to the General Strike?

III. "Red Friday" and the Nine Months' Truce

IV. The General Strike Launched

V. The Isolation of the Miners

VI. The Casualties

VII. Reflections and Perspectives

---