Montoneros 1970
Communiqué No. 3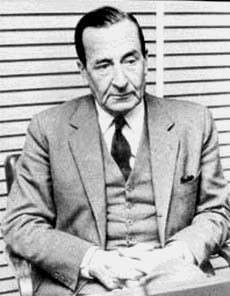 ---
Source: Montoneros, Documentos internos, resoluciones, comunicados y partes de Guerra. Cuadernos de la memoria;
Translated: for marxists.org by Mitchell Abidor;
CopyLeft: Creative Commons (Attribute & ShareAlike) marxists.org 2008.
---
May 31, 1970
To the People of the Nation
On Sunday May 31, 1970 the leadership of our organization, constituted in a Revolutionary Tribunal, after carefully interrogating Pedro Eugenio Aramburu declares:
I For that which Pedro Eugenio Aramburu recognized his responsibility:
First: For decrees 10.362 and 10.363 of June 19, 1956 which "legalized' the massacre of 27 Argentineans without charges or justifiable cause.
Second: For decree 10.364 by which were condemned to death 8 soldiers by the express resolution of the National Executive Power, mocking the authority of the War Council gathered at the Campo de Mayo and presided over by General Lorio, which found the accused innocent.
Third: Of having directed the repression of the majority representative political movement of the Argentine people, proscribing its organizations, intervening in its unions, imprisoning its leaders and fomenting repression in the workplaces.
Fourth: Of the profanation of the place where the remains of Companera Evita were resting and the later disappearance of same, taking from the people the final material remains of she who was their standard bearer.
II For the following charges, which the Tribunal found him guilty of but which the accused did not recognize:
First: The public defamation of the names of the legitimate popular leaders in general and especially of our leader Juan Domingo Peron and our compañeros Eva Peron and Juan Jose Valle.
Second: Having annulled the legitimate social conquests established by the Justicialist revolution.
Third: Having initiated the giving away of the national patrimony to foreign interests.
Fourth: Currently being a card of the regime which wants to put him back in power in order to once again mock the people with a false democracy and to legalize the giving away of our Fatherland
Fifth: Having been the vehicle of the vengeance of the oligarchy against changes in the social order towards a sentiment of strict Christian justice.
The Revolutionary Tribunal Resolves:
1. It condemns Pedro Eugenio Aramburu to be executed in a place and on a date to be determined
2. To make known at the appropriate time the documentation on which the resolution of this Tribunal is based.
3. To give a Christian burial to the remains of the accused, which shall only be restored to his family when the remains of its beloved Companera Evita have been returned to the Argentinean people.

Peron or Death! Long Live the Fatherland!
Montoneros
---